Automation in healthcare is more important than ever. COVID-19 exacerbated the healthcare industry's chronic staffing shortage – and there's no sign of relief. According to a study published in Mayo Clinic Proceedings, about a third of nurses and physicians plan to reduce work hours or resign in the next two years. Administrative staff also expressed dissatisfaction, with 13.6% and 6.8% planning their exit due to burnout, heavy workload, and COVID-19 issues.
Healthcare automation can help reduce the heavy workloads that lead to burnout and resignation. Providers can use automation in virtually any department to streamline processes and to improve data accuracy and quality.
Here, we take an all-inclusive look at automation in healthcare. We also describe 15 ways providers can use automation to reduce staff burden, improve patient engagement and potentially improve outcomes.
What is automation in healthcare?
Automation in healthcare promises to mitigate some of the problems that result from healthcare's chronic staff shortages. Automation software performs repetitive tasks, at scale, without human intervention. Healthcare teams can use automation in many ways, replacing time-consuming manual efforts with easy-to-use technology.
Examples of automation in healthcare include:
Mobile patient intake
Online chat and/or chatbots
Automated consent management
Contactless check-in
Mobile registration
Benefits verification
Automatic, online billing and payment
Automated schedule management
Automated appointment confirmation and reminders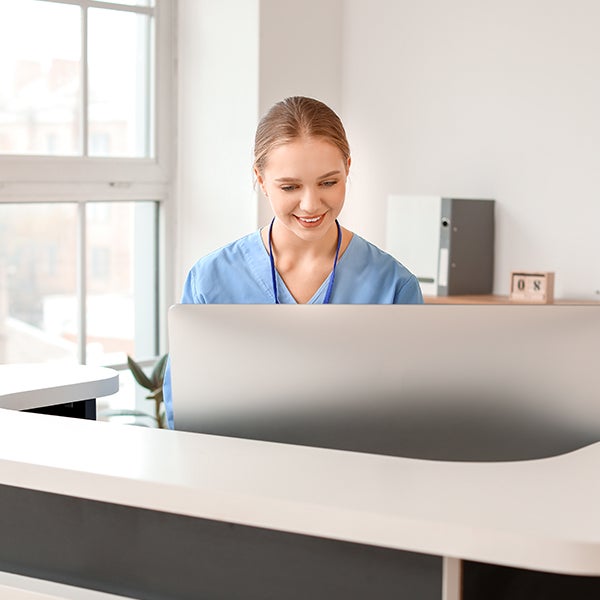 Highly structured roles in predictable environments are good candidates for automation. In healthcare, that includes roles that involve data collection and processing, as well as administrative, food service and environmental services. Even some provider tasks, such as answering common questions or simple symptom checking, could be replaced by automation. Providers that implement automation solutions, however, will need to train people to use the software, and to perform tasks that complement its functions.
Automation is not the same as AI
If you're new to automation software, take note: automation is not the same as artificial intelligence. Automation software follows pre-programmed rules to process data. AI takes that one step further, using complex algorithms to process and understand that data.
Why should healthcare organizations automate?
Automation standardizes time-consuming repetitive tasks. Because automation has unlimited capacity, healthcare organizations can connect with patients more frequently than they can with humans.
Automated appointment reminders help reduce no-shows and cancelations. For example, a pediatrics practice decreased its no-show rate by 43% after implementing a digital patient check-in system. That check-in system automatically sent appointment confirmation and reminder messages and gave patients the ability to complete registration paperwork online.
Even better, staff no longer had to do any of these tasks:
Call patients to confirm appointments
Manually enter patient information scribbled on paper forms into the intake system
Manually scan and upload insurance cards and driver's licenses
Call and verify insurance information
Manually process copays
Freed from data entry and cold calling, administrative staff have time to take on duties that require more in-depth patient communication and critical thinking. Automation in healthcare nearly eliminates the possibility of staff error and ensures appointment confirmations and reminders go out on schedule. It also allows staff to launch additional patient engagement initiatives such as text message outreach and post-visit patient experience surveys.
Automation is also one more tool healthcare organizations can put into action to control healthcare spend. A CAQH report found that although the volume of medical transactions dropped by 11% in 2020, medical spend increased by 12%. Because of the high cost of manual transactions and the low cost of electronic transactions, technology presents the healthcare industry with a $17.6 billion savings opportunity.
Healthcare organizations new to integrating automation software should know it's reasonably easy to integrate and deploy. Many process automation solutions, for example, work alongside cloud-based infrastructures and legacy software. For healthcare organizations early in their digital transformation journey, automation is a great place to start.
15 core benefits of automation in healthcare
Because of the versatility and scalability of automation tools, healthcare organizations benefit in numerous ways by automating certain processes. Improvements include more efficient operations, more productive, motivated employees, and more satisfied patients. Here's the detailed breakdown of how healthcare providers benefit from automation.
1. Fill staffing gaps. By automating processes such as patient intake, payments, and scheduling, healthcare providers alleviate at least some of the burden of hiring. Providers already operating on limited staff can avoid the expense of recruiting, hiring and training new employees.
An Accenture report stated that companies have the potential to save between $5 and $7 trillion between 2016 and 2025 through automation. Over the same time period, it can perform the work of about 140 million full-time employees.
Healthcare organizations can take a slice of that savings by investing in software designed for healthcare. Healthcare-specific automation tools include features such as EHR/PM platform integration, HIPAA-compliant chat messaging, and robust governance, privacy and security.
2. Reduce staff burnout. One of the leading causes of burnout is a heavy workload and not enough support. What's more, a workday filled with monotonous tasks requires more energy, which ups the odds of fatigue. Add multiple COVID-19-related stressors and you've got valuable staff who lack the time, energy and motivation to provide a high-quality patient experience.
Automating manual processes reduces workload by removing tedious tasks, which helps lessen stress and fatigue. More engaged, productive employees provide more positive patient experiences. Satisfied employees are also less likely to quit, which saves organizations the expense of hiring and onboarding.
3. Increase front office efficiency. Your front office staff are the first your patients see or speak with. Automation in healthcare empowers front office staff by relieving them of time-consuming manual tasks. By automating appointment confirmations and reminders alone, providers save staff hours of manual outreach. Online appointments and mobile registration give patients more control over their care while freeing staff from data entry and more phone calls.
Automation is also scalable: as patient volume grows, call volume grows with it, without any additional work on the staff's part. With the help of automation software, front office staff get more done in less time. This allows them to put more focus on managing the practice and developing strategies to improve patient satisfaction.
4. Improve "real" patient engagement.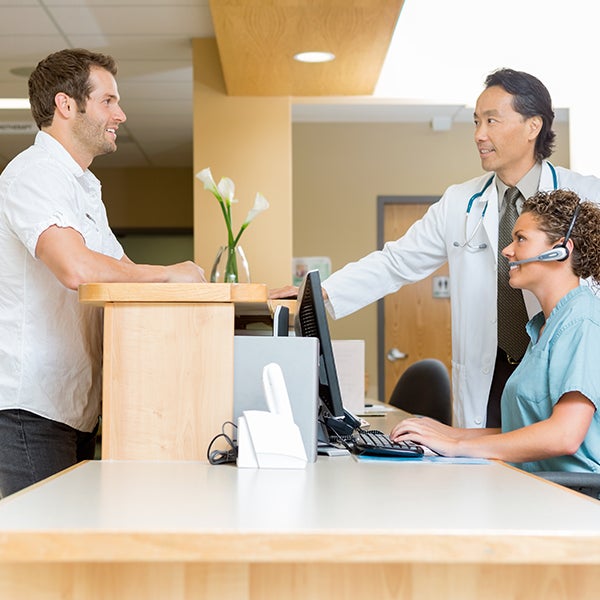 Automation provides the means for digital patient engagement, but human-to-human relationships remain at the core of healthcare. Engaged, activated patients are involved in their care and have the tools they need to get and stay healthy. Patient engagement can lead to improved health outcomes as well as improvements in safety and quality.
Your patients have questions that can't be answered with automated messages—they need to about everything from how to prepare for an appointment to when they need to schedule a follow-up visit. Front-desk staff play an important role in explaining complex processes, so when they are visibly overwhelmed or distressed, patients may hesitate to ask for help.
The good news is that automation can help free staff from repetitive manual tasks. Relieving this administrative burden means staff have the time and energy to support patients and make sure they feel cared for and appreciated.
5. Improve patient satisfaction and experience. Smart businesses provide excellent customer service. Smart healthcare providers must do the same to acquire and retain patients. And because patient satisfaction scores are connected to reimbursement, providers have additional incentive to improve the patient experience.
Automated post-visit patient satisfaction surveys help providers get a clearer picture of where they excel and where they fall short, which can help drive change. For instance, Gwinnett Center Medical Associates, a primary care practice located in Lawrenceville, Georgia, discovered through surveys that certain procedures took more time than planned and caused waiting-room bottlenecks. The practice redesigned its clinical workflow accordingly and saw scores increase.
Providers can also use survey results to optimize operations and improve their CAHPS scores and other value-based incentive programs.
6. Improve agility. Automating workflows and business processes improves agility: the ability to respond quickly when needed. In the hospital, automated notifications alert staff when medical equipment needs maintenance. Technology can also track patient wait times and staff on duty to improve efficiency and care quality.
Automation helps improve security by notifying IT staff about network problems, and in some cases, by implementing a solution. In crisis situations such as blackout, automation keeps critical infrastructure secure and operational.
Note: When researching vendors, ask about their disaster recovery program. Under HIPAA, third-party vendors must have a disaster recovery program that outlines how a natural disaster may affect systems that contain protected health information (PHI), how it will operate after a disaster, and how it will restore PHI.
7. Simplify scheduling. Online appointments and self-scheduling not only improve front office efficiency, they also provide the easy, anytime service patients expect. Self-scheduling gives patients the ability to schedule and change appointments when it's convenient for them—a big advantage for patients who can't call during business hours. With the appointment scheduled or request received, patients automatically receive a confirmation, and the information automatically populates into the dashboard for staff to track and manage.
8. Keep your schedule full. Gaps caused by canceled appointments mean lost revenue and precious time wasted for physicians and clinicians. Schedule management software automatically fills open slots with waiting patients—without requiring staff to manage a waitlist. Patients on the waitlist receive a text or email notifying them that an earlier time is available. Patients reply to accept the new time; when they do, they receive a confirmation right away. Phreesia's Appointment Accelerator fills an average of 15.6 open appointments per month with an 18.5-day improvement in patient access.
9. Send appointment reminders at the right cadence. Staff usually don't have the time to manually call, text, or email patients with appointment confirmations and reminders. Appointment reminder software with automation allows providers to schedule a sequence of messages at the right time, using the channel the patient prefers. Automated, personalized notifications and reminders help reduce no-shows and cancelations without overloading staff.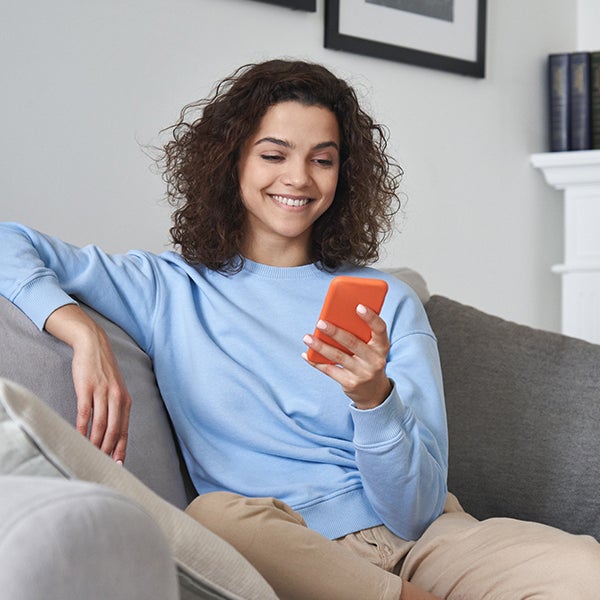 10. Learn more about your patients' health. Patients tend to want to share information with their healthcare providers. Screening tools and patient-reported outcome (PRO) assessments are easy ways to gain relevant information about their health. Automated delivery of these assessments can be used to identify and close HEDIS care gaps and collect other data related to value-based care models.
Examples include pre-appointment COVID-19 screening, the PHQ-9 depression questionnaire, the ASQ-3 pediatric questionnaire, social determinants of health screenings, and more. To illustrate the benefits: a large spinal group increased its opioid misuse screenings by 195% in 90 days using Phreesia's clinical support tools.
11. Increase patient safety through COVID-19 pre-screening. To keep patients and staff safe, healthcare providers must accurately screen patients for COVID-19 risk factors before they step into the clinic. To manually screen all patients would place too much burden on staff.
Automation allows providers to capture COVID-19 risk factors during intake—before the patient visit. Patients who report risk factors receive a call. Depending on the situation, staff can either reschedule the appointment or direct the patient to the appropriate care setting.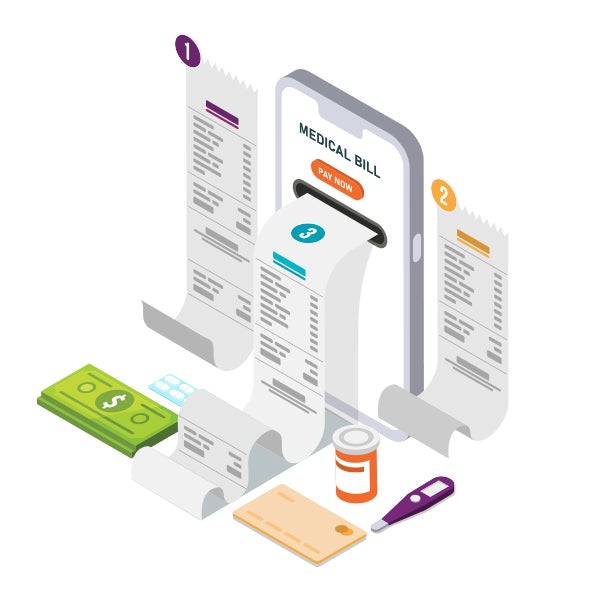 12. Improve front-end collections. Smart revenue cycle practices dictate collecting as much payment up front as possible. Improve collection rates by starting the financial conversation before the appointment. Collect copays and advance payments either during scheduling or at the point of service (most common). Automation helps speed up the process by up to 50%.
13. Improve revenue cycle. The longer a balance remains outstanding, the less likely it will get paid. On average, it takes more than three statements—all of which require time for staff to prepare and send—to collect a patient's balance in full. Flexible, time-of-service collection options help providers avoid this expensive cycle by acquiring a higher portion of the balance up front. For patients who need options, payment plans using a card on file help ensure the balance gets paid in a way that's low friction for the patient.
14. Simplify benefits eligibility and verification. In between scheduling and the appointment, healthcare providers engage in a series of time-consuming tasks related to health insurance. Automation lessens time associated with eligibility and benefit verification, prior authorization, and other health plan-related tasks.
While most providers use electronic eligibility and benefit verification systems, they may not use automation to its fullest potential. Automated solutions allow providers to capture insurance information directly from the patient—they can even upload copies of their insurance card and identification using their mobile devices. Providers can import information from their patient management solution to further simplify insurance verification.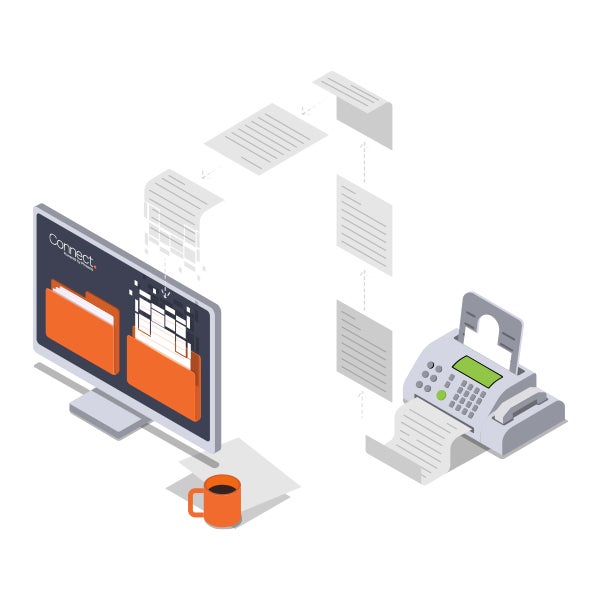 15. Streamline referral management. Referrals are critical for ensuring patients receive the specialized care they need. They're also an important revenue source for providers. Electronic referral submission minimizes time spent faxing referrals and calling specialists, freeing up clinicians and administrative staff for other patient care duties. It also allows providers to track incoming and outgoing referrals more easily than manual methods. Solutions such as Connect provide 1:1 chat for quick, easy communication between providers.
How healthcare organizations can get started with automation
Automation in healthcare isn't new, but healthcare organizations can use new technology to transform their operations. These new automation solutions don't require an extensive technology upgrade; to the contrary, they're relatively easy and quick to implement.
Organizations just getting started with automation can start with one task in one department. As teams become familiar with new software and new processes, providers can gradually expand according to their organizations' needs.
By integrating software with automated appointment reminders, easy online scheduling, and other efficient patient intake tools, healthcare providers can lessen the workload for overwhelmed staff, improve productivity and efficiency, and realize notable cost savings.
Ready to get started with automation? Request a demo today.