Online Appointments
and Self-Scheduling
Give patients the scheduling experience they expect, and ease the burden on your call center or clinic schedulers. Phreesia Online Appointments gives patients 24/7 access to request or even schedule their own telehealth or in-person appointments online, either through a link on your website or by responding to a call to action in your patient-outreach communications.
Once patients self-schedule or send an appointment request, their information automatically populates into the Phreesia Appointments Hub for staff to track and manage.
Appointment Reminders
Reduce missed appointments, save staff time and ensure patients get the care they need with Appointment Reminders. Your healthcare organization can customize how reminder messages are automatically delivered to patients, including by voice call, text message or email. Prompt patients to confirm, or request to cancel or reschedule their appointment – directly from the message – to keep your schedule full.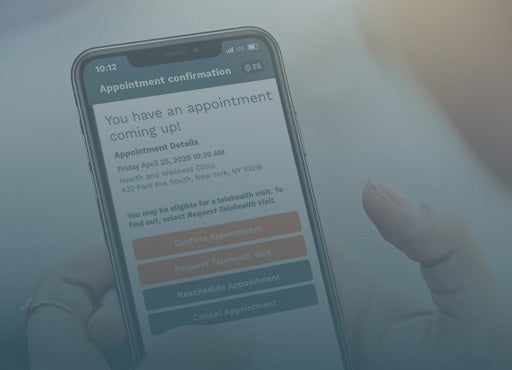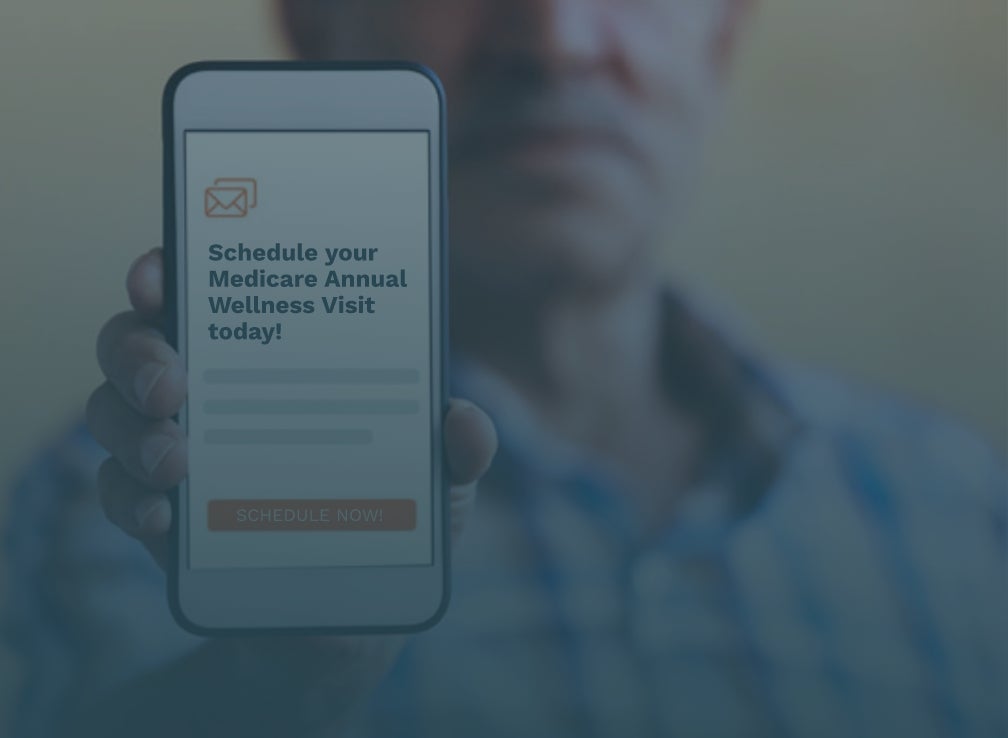 Health Campaigns
Send targeted messages to specific patient populations or individuals using Phreesia's Health Campaigns application. With Health Campaigns, you can engage patients at every step in their healthcare journey, activating them in their care and expanding your organization's digital front door. Reach out to patients with upcoming appointments and ask them to reschedule to a telehealth visit, or recall past cancelled and no-show appointments. Easily prioritize certain patients or appointment types, such as patients with chronic conditions or delayed procedures. Patients can easily self-schedule or request the appropriate appointment right from the email message without having to call the office, engaging them in their care and driving follow-up appointments.
Appointment Accelerator
Cancelled appointments mean lost revenue, frustrated physicians and wasted opportunities to improve patient access. Appointment Accelerator automatically fills those cancelled appointments with waiting patients—all without your staff needing to lift a finger or manage a time-consuming waitlist. With Appointment Accelerator, you can increase patient volume, prevent future no-shows and save your staff valuable time, while getting patients in for their appointment weeks earlier.
Connect
Sending Referrals
Referrals are vital for making sure your patients receive the right specialized care, but the process is time-consuming and inefficient. Connect provides a simple, more efficient solution. The application tracks and manages referrals in one place to ensure prompt follow-up and scheduling with specialists. Staff can submit referrals electronically and chat directly on the platform with each specialist's referral coordinator, minimizing time spent faxing and calling. The result? Faster scheduling, reduced staff workload and better continuity of care for your patients.
Receiving Referrals
We know that specialists count on physician referrals to keep their practices running. Connect keeps the process streamlined and convenient by tracking all incoming referrals – whether via fax or online – in a centralized list, helping providers build their schedules more efficiently. In select geographies, you can enroll in the local Connect Network to enjoy better communication with other provider groups. Phreesia provides support from a dedicated Network Liaison who will onboard local providers and help them use the platform to send referrals. Connect offers a more convenient online referral process, allowing you to schedule patients twice as fast and ensuring better continuity of care.
Appointments Hub
Think of it as your appointments command center. The Phreesia Appointments Hub centralizes and tracks all incoming appointments from your website, Health Campaigns, your referring providers and patient-outreach communications. Staff can manage both telehealth and in-person appointments across multiple locations. The Appointments Hub can also schedule appointments directly into select practice-management systems.
Patient Appointment Scheduling Analytics
Leverage Phreesia's easy-to-use Analytics to gain patient scheduling insights into your top referring providers, learn where new patients come from, track the reasons for their visits and more.
Calculate volume of incoming patient-appointment requests and self-scheduled appointments
Track time to schedule appointments and time to complete appointments
Identify top referral sources
Understand top reasons for new patient referrals and appointment requests
Track sources of new patients to inform marketing decisions
Success Stories
A primary care group's patients used Phreesia's Self-Scheduling application to self-schedule more than 1,200 appointments during COVID-19, providing more scheduling convenience and lower call volume.