Patient scheduling is one of the most time-consuming and important administrative tasks for healthcare providers. Efficient patient scheduling helps medical practices maximize revenue and minimize costs while keeping patients healthy and happy.
Disorganized patient scheduling has the opposite effect. It eats up precious staff time, drives up costs, and creates frustrating patient experiences.
To keep your patients coming back, don't keep them waiting—on hold or in the waiting room. Follow these 10 medical appointment scheduling guidelines to develop a process that leads to consistent patient satisfaction. That, combined with a modern patient scheduling system, will enable you to give your patients the flexibility and convenience they want and the administrative efficiency you need.
What is patient scheduling?
Patient scheduling refers to the process of assigning time for patients to receive healthcare services. These services can include anything from major surgery to routine physical exams.
Traditionally, patients would have to call their providers to schedule appointments. That meant they would typically have to find time during their work hours to make the call. On the receiving end, front desk staff spent much of their time with a phone stuck to their ear. Phone-based scheduling got the job done, but it wasted valuable time in the process.
As telephones gave way to smartphones, patients started demanding a more flexible way to schedule. To meet their needs, many healthcare providers implemented patient scheduling software. Today, patients have more ways to schedule than ever before. They can self-schedule online, request an appointment online, or pick up the phone. If they want, they can even walk in and schedule in person.
Appointment scheduling software is the ticket to convenient online patient scheduling. With it, patients can book appointments online if they choose. And because front desk staff don't have to spend hours on the phone, they have more time for other tasks. The convenience of online scheduling therefore does wonders for staff productivity and patient access.
What is patient access?
Patient access refers to patients' ability use healthcare services in a timely manner. High-quality patient access prioritizes factors like appointment availability, ease of scheduling, convenient hours and the ability to connect with staff and providers using preferred communication methods.
Poor access not only frustrates patients, it may also affect health outcomes. When patients can't easily access care, they're more likely to avoid it, putting off treatment until a condition becomes more serious. With good care access, patients are more likely to schedule preventive care and screenings, which helps improve outcomes.
What are the benefits of improved patient scheduling?
Staff spend hours each week scheduling and confirming appointments by phone and returning patient phone calls and emails. Not only is this method inefficient, it's not what patients want.
What do they want? Online scheduling. Phreesia's March 2022 survey found 84% of patients surveyed either definitely or probably would book appointments online.
Whether your practice chooses to implement appointment scheduling software or start with an online appointment request process, improved patient scheduling has several advantages. Here are five ways healthcare providers can benefit from online patient scheduling:
1. Reduce no-shows through better engagement.
Engaged patients are more proactive about managing their health than passive care recipients. To engage patients, providers must communicate using the channels patients prefer and use. Today, that means digital.
Automated appointment reminders give providers extra opportunities to deliver personalized messages. When patients receive and see text and/or email reminders consistently, they're more likely to keep their appointment—and keep coming back.
2. Save staff time with fewer phone calls and data entry.
Phreesia's March 2022 survey found over half the patients surveyed (55%) prefer to communicate by text message. A personal phone call works well for delivering sensitive information, when a human touch is most valuable. For scheduling, more efficient options deliver optimal results.
Online self-scheduling and automated notifications save smaller practices about hours of distracting phone time. By automating scheduling-related communication, staff can have more time for higher-value tasks. When they're less tied to the phone, staff can devote their attention to engaging with patients in person, implementing feedback gathered from follow-up surveys, and otherwise providing first-class customer service.
3. Meet patients' expectations for a convenient, digital-first experience.
Now that online everything is the norm, patients expect healthcare providers to offer some of the convenient features they're used to from their banks and from retailers. Providers that don't offer this level of service risk losing patients to competitors—competitors that include large entities like Amazon, Walmart, CVS, and Walgreens. Improving patient scheduling to include online booking is a great step toward maintaining patient volume.
4. Increase scheduling efficiency by filling every appointment slot.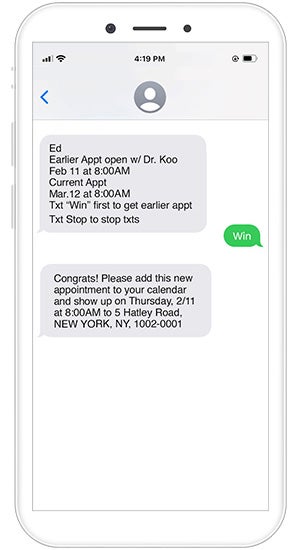 Despite all best efforts, no-shows happen. When they do, it impacts staff, revenue, and possibly quality of care. One study estimated that 67,000 no-shows can cost a healthcare system about $7 million. That's about $105 per no-show.
An automated patient scheduling system with smart scheduling improves no-show rates by up to 79% according to Phreesia client data.
Here's how it works: When a timeslot opens up, patients receive a text message that notifies them of the opening and asks if they'd like the earlier time. If they reply with a "yes," the software automatically reschedules and confirms the patient for the earlier slot. The process continues until all gaps are full.
By using smart scheduling, healthcare providers keep their calendars full while staff spends less time on manual rescheduling.
5. Increase overall revenue by recalling patients for needed care, recapturing cancellations and increasing patient access.
Personalized text messages and emails generate better response rates than a voicemail or notification in a patient portal. Improved response rates increase the likelihood of more scheduled appointments, which means more revenue. A few message-based revenue-generating tactics include:
Follow up with patients who canceled appointments by sending an automated, personalized message. Instead of waiting for patients to reschedule providers can proactively send patients a link to book a new time.
Use targeted outreach to offer routine screenings and other services to existing patients. Include a scheduling link to make appointment-setting easy. A dermatology practice used targeted outreach to achieve a 61% increase in visit volume.
Use digital channels to consistently follow up with referred patients to get them on the schedule fast. Efficient referred-patient scheduling not only leads to increased revenue from patient visits, but also a more positive relationship with the referring provider.
10 best practices for patient scheduling
Front desk staff handle phone calls, schedule appointments, greet patients and answer questions. Combined with chronic understaffing, it's no wonder administrative staff are burnt out.
Technology can help ease their workload by automating many routine tasks. Patient scheduling software is a great place to start.
Planning to upgrade your patient scheduling system? Keep the following best practices in mind:
1. Use personalized outreach to increase scheduling for routine care.
While many patients are taking a more proactive approach to their care now than in years past, that doesn't mean they're eager to visit the doctor's office. Use patient scheduling software to send automatic reminders when it's time for annual exams and other routine care. You'll get more appointments on the books while working toward better patient outcomes.
2. Provide self-scheduling.
Phone-based patient scheduling takes over eight minutes while self-scheduling takes less than 60 seconds. Self-scheduling dramatically reduces inbound calls while giving patients the digital convenience they want.
3. Support online appointment requests.
While many patients appreciate self-scheduling for its convenience and speed, others prefer human interaction. At the same time, providers may need to retain some control over the scheduling process. To meet the needs of both patients and administrators, consider both patient self-scheduling and online appointment requests. With the latter, patients can get the process started online and finish via phone call or email.
4. Enable after-hours scheduling.
With online self-scheduling, patients can book their appointment when it's convenient, which is often before or after typical business hours. Online appointment scheduling facilitates after-hours scheduling, which helps improve patient access, satisfaction, and retention.
5. Leverage smart waitlists.
Keep your practice humming by closing scheduling gaps minutes after they occur. Using a custom rules-based engine, smart scheduling tools offer earlier appointments via text message to patients who may otherwise have a weeks- or months-long wait to see their doctor.
Phreesia's Appointment Accelerator fills open slots in 5.3 minutes on average, versus one or two days for other electronic wait lists. Getting patients seen as soon as possible is good for outcomes, good for patient access, and good for revenue.
6. Use automated email, text message and voice reminders.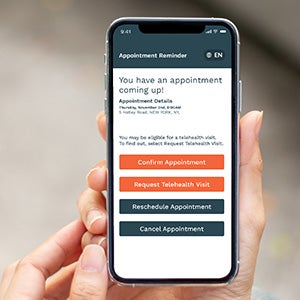 How many hours does your staff spend calling to confirm appointments? Get that time back while also giving your patients a positive experience with automated reminders.
When you send confirmations and reminders by email, text, or automated voice message, you also give patients the opportunity to easily reschedule appointments when needed.
7. Track referrals online.
Referrals are an important revenue stream for many healthcare providers. Keep that part of your business organized with an online referral management system. A companion to digital patient scheduling, a referral management system compiles all referrals into a single location, making it easier to prioritize scheduling based on value and urgency. With referrals organized, you can automate outreach to make sure no patient gets lost in the shuffle.
Phreesia's automated referral-management process saves an average of 21 minutes of staff time per referral. Referrals managed with Phreesia are also up to three times more likely to be scheduled—a substantial revenue boost.
8. Scale across locations and providers.
Have multiple locations? An online patient scheduling system scales with your organization, without the need to hire additional staff. A centralized appointments hub helps small teams manage telehealth and in-person appointments across multiple locations. From one dashboard, an administrative team member can view all patients' appointment statuses. Would they prefer an earlier appointment in a different location? With a unified patient scheduling system, it's easy to make that adjustment.
9. Use tools that allow workflows to be tailored and tracked.
One top advantage of using cloud-based patient scheduling software is the ability to monitor and analyze activity over time. Look for a patient scheduling system that offers robust analytic capabilities. With insight into staff time spent on appointment scheduling, top referral sources, and no-show rate, you can continually improve processes over time. As you get accustomed to the software, you can add functionality and adjust workflows to meet practice and patient needs.
10. Deploy staff more effectively due to time savings.
Healthcare providers can make the most of efficiency gains realized by automation in several ways. First, remember that first impressions are everything. Double down on providing superior in-person interactions. A warm greeting goes a long way toward generating an all-around positive patient experience. Providers can also dedicate administrative staff time to other patient engagement activities, such as scheduling follow-up messages, reviewing analytics and mastering automation software. In essence, digital technology empowers healthcare teams to do more with less.
Bottom line
Patient scheduling is one piece of a large patient management puzzle. Patient scheduling software gives patients flexibility in how and when they schedule appointments, which helps improve access, engagement, and outcomes. By automating tasks such as appointment confirmation, reminders, and referral scheduling, healthcare providers can dramatically reduce time spent on these tasks while filling up the calendar with confirmed patient appointments.
Learn how Phreesia can help your organization boost revenue and efficiency through patient scheduling.