Your patient intake partner
Federally qualified health centers (FQHCs) like yours play a critical role in our health system, providing care to millions of patients living in underserved communities. At the same time, you also face a myriad of financial, competitive and operational challenges while working to meet your organizational goals and provide quality, affordable care for all. Phreesia understands these FQHC challenges and provides a comprehensive suite of tools to help you manage FQHC patient intake across a range of primary and specialty care settings.
Learn about the inspiring work of one of Phreesia's FQHC clients, Community Health Northwest Florida.
ONE PATIENT,
100 INTAKE TASKS
We know that every patient who walks through your door has unique needs. But managing all of the necessary intake tasks for each patient at every visit can seem impossible without an army of staff. Phreesia's automated platform streamlines patient registration by asking the right patients the right questions at the right time, enabling FQHCs to meet their organizational goals and provide quality, affordable care for all.
Create a better patient experience
Capture a complete patient record
Offer flexible payment options and payment plans
Use Phreesia to do it all at scale, with consistency and fewer staff
Say goodbye to clipboards and scanning
Phreesia is designed to save your team—and your patients—the headache of check-in forms. Whether patients register at home, in your parking lot or in your office, Phreesia's intake tools help streamline your operations, while giving patients the safe, contactless options they want and your providers the specific information they need.
Send texts or emails that let your patients register up to a week before their appointment. They can check in from their mobile device at home, in their car or in another designated area when they arrive at your office. Mobile offers patients a convenient and contactless way to update their medical history, sign consents, make payments and take photos to store in their patient record.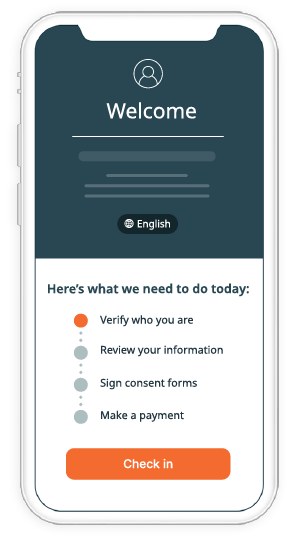 The right questions, the right answers
From behavioral health and pediatrics to oncology and internal medicine, FQHC organizations serve a wide range of patient types, each with their own specific health risks and needs. Phreesia tailors the patient experience to each individual, capturing medical, family and social history, payment information and consents. The data is automatically sent back to your EHR/PM system, allowing you to capture a complete patient record.
Deliver patient-specific, guided intake interviews on any device
Capture a complete patient record, including key data points such as sexual orientation, veteran status and gender
Collect patient medical and social history, payments and e-signature consents
Integrate patient data with your EHR/PM system
Activate patients throughout their journey
What if you could engage patients and empower them to take a more active role in their care? Phreesia Health Campaigns allows you to send targeted messages to the right patients at the right time and prompts them to self-schedule specific appointments, such as nurse visits for flu vaccines, mammograms, DEXA scans and other preventive screenings. Health Campaigns activates patients in their care and helps you improve clinical quality, boost patient recall, and align clinical operations with both fee-for-service and value-based payment models. This reduces call volume and scheduling workload for your staff, gives providers more time during the visit and encourages patients to take charge of their health.
Identify target patient populations in need of specific appointment types
Present custom messages to patients during intake or between visits, prompting them to request or self-schedule appointments
Monitor and analyze outreach metrics and patient responses
Enhance quality performance by driving preventive care
Maximize time with patients to deliver quality care and a better patient experience
Insurance verification for government and private-payer patients
Need to verify a patient's insurance coverage? We'll tell you. Not sure who is eligible for a Medicare Annual Wellness Visit? We have that, too. While not all of your patients will owe a copay, Phreesia helps ensure you're collecting from those who do and automatically calculates the balance. Our automated Eligibility & Benefits application gives your staff the data they need in a manageable, simple-to-understand format.
Automatically verify insurance before or during the visit
Identify benefit information, such as co-insurance and deductibles
Accelerate reimbursement by reducing pending and denied claims
Support your patients' behavioral health and wellness goals
As an FQHC, you take responsibility for your patients' behavioral health. Phreesia understands this, and our clinical support applications can help create a more systematic approach to managing mental wellness in your patient panel.
Trigger clinical screenings for depression, anxiety, alcohol use and more
Automatically capture the results to help you collect reimbursements
Track and report on patient insights to ensure your organization is meeting HRSA requirements
Wondering if your patients are satisfied with their care?
What do your patients think about their visits? We know your staff doesn't always have the bandwidth to ask these questions, so Phreesia's FQHC patient satisfaction surveys do just that—collect patient feedback in real time for you, giving you a clear picture of what they think. As an FQHC organization, collecting patient feedback helps you improve services, generate patient referrals and boost reimbursement rates.
Track patient perceptions
Identify service issues
Customize questions based on location and visit type
Measure progress on practice improvement efforts
Prepare for incentive-based patient satisfaction reports
Measure, understand and improve
Phreesia's robust suite of analytics tools empowers you to take control of your organization's financial and operational health, including revenue cycle management and reporting on the FQHC quality measures needed to meet grant requirements. Our permission-based reports give you the insights you need to make the decisions that drive accountability and success in your organization.
Collect more patient payments—before and after the visit
We get it—asking patients for payment can be difficult, and not everyone can afford to pay. Using Phreesia's suite of payment applications, your practice can identify those patients with financial responsibilities and offer them flexible payment options.
E-cashiering
POS payments
Payment posting
Payment plans
Online payments
Phreesia Payment Assurance
Your partner in security
We know you have to ask patients for sensitive financial information. At Phreesia, privacy and security are our top priorities—not boxes we check during a once-a-year review. At each and every level of our organization, we foster a culture of compliance focused on safeguarding patient data. Phreesia adheres to industry-leading regulations and requirements for securing and protecting health data, and we set best-in-class policies across our entire company. We're honored to have those efforts recognized with many of the industry's most well-known certifications, including:
HITRUST CSF Certification
Payment Card Industry Data Security Standard (PCI DSS)
Point-to-Point Encryption (P2PE) Certification
System and Organization Controls (SOC) 2 Reporting
Our bidirectional integrations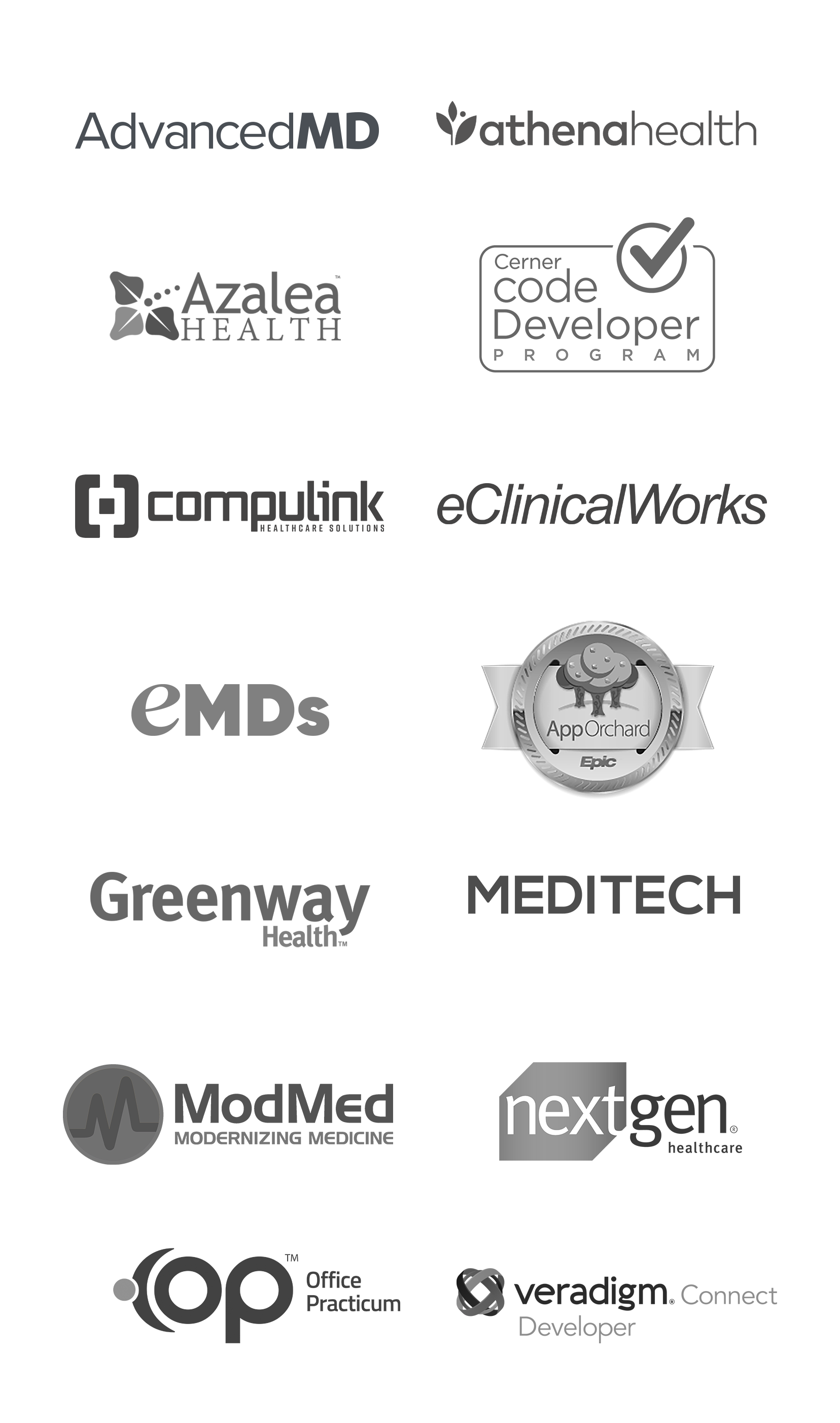 Want More?
Explore these additional applications for your practice
Consent Management
Capture e-signatures for HIPAA, financial and clinical policies
Appointments
Manage online appointments and referrals for simple, streamlined scheduling
Custom Reporting
Review patient responses to intake questions