What is the digital front door?
The digital front door is a relatively new development in healthcare—one that represents a significant departure from paper forms and telephone calls in favor of more convenient channels, like mobile check-in and digital reminders.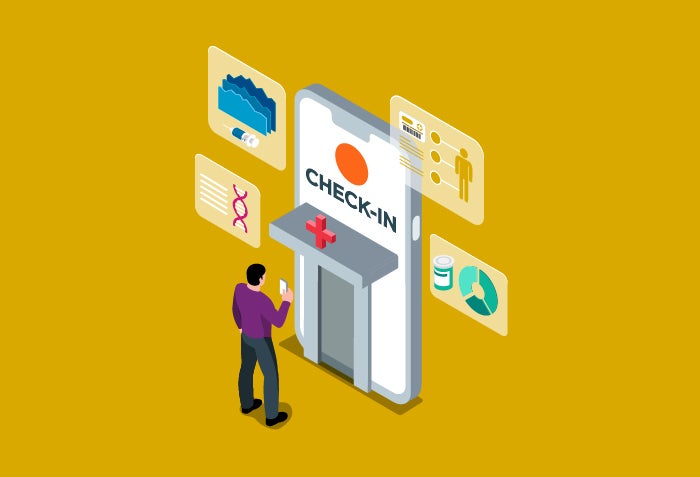 More than a buzzword, "digital front door" refers to the collection of technologies that healthcare providers use to manage and improve the patient experience. And while the digital front door was under construction well before the pandemic, the disruption caused by COVID-19 solidified its presence.
The digital front door is an important piece of the digital transformation that's well underway in healthcare. It represents a radical shift in healthcare administration away from a provider-centric, paper-based approach toward a more digital, patient-centric framework. As retail giants like Walgreens, Amazon and Walmart become further ingrained in healthcare, embracing a digital front door will be key for traditional healthcare providers looking to gain a competitive advantage.
Read on to learn about the components of a digital front door, how to build one and how to overcome strategic obstacles when creating a digital front door within your organization.
The purpose of the digital front door
The digital front door encompasses all the technology that providers use to connect with patients during their healthcare journey. Advisory firm IDC defines the digital front door as "all the touchpoints where providers and payers can digitally interact with patients or members to drive better access, engagement, and experiences across the service continuum." 
The purpose of the digital front door is to improve access, better engage with patients and improve their experience. Operationally, the digital front door enables providers to leverage health IT to scale up services without overloading staff. With a well-established digital front door, healthcare facilities can respond to ebbs and flows in patient volume in an efficient, cost-effective manner.
Name aside, the digital front door goes beyond pre-service activities. It's a holistic concept that delivers an omnichannel experience from the time patients use a digital symptoms-checker to well after their follow-up appointment.
How the digital front door rose to prominence
The digital front door stretches back to the early 2000s when consumer health and wellness devices entered the mainstream. What began with rudimentary fitness watches and step counters evolved into more advanced devices like Fitbit, which hit the market in 2009.
Six years later, the first-generation Apple Watch debuted, and an estimated 4.2 million people snapped one up during the wearable's first quarter. Meanwhile, software and medical product developers began launching countless fitness apps and regulated medical wearables—each one smarter and more sophisticated than the last.
Consumers took to mobile health devices like ducks to water. The global wearables market grew from about $13.6 billion in 2018 to $21.3 billion in 2021, according to market reports—a 57% increase in just three years.
As people started using wearables and apps to actively manage their health, the patient-provider relationship changed. Doctors no longer held all the knowledge. Instead, doctors and patients exchanged information with each other, which helped physicians make more informed diagnoses and treatment decisions.
As technology took root in healthcare, it blossomed in virtually every other industry. Outside the doctor's office, consumers streamed their favorite tv shows and ordered groceries from their phone. They signed documents, chatted with friends and made purchases online. According to a McKinsey survey, 82% of Americans used digital payments in 2021, up from 72% just five years prior.
The COVID-19 pandemic accelerated those digital trends, and provider organizations raced to keep up. In fact, survey data shows that healthcare organizations accomplished two full years of digital transformation during the first two months of the pandemic.
Fueled by the immediate need to protect the health and safety of patients and staff, providers brought digital front-office capabilities online. Digitizing and automating patient registration and intake kept patients out of the waiting room. It also introduced patients to the conveniences of a digital-first healthcare experience—and now, they aren't eager to go back.
Why the digital front door matters
In a value-based, patient-centric healthcare environment, creating a seamless patient experience is essential for maintaining a robust, loyal patient base. The digital front door is the entryway to the digital-first patient experience that's essential to cultivate as healthcare consumerism takes shape.
Consumerism in healthcare refers to the personal choice and responsibility patients have in paying for and managing their care. The concept evolved over the past decade from a vague concept to an industry-wide priority as value-based care and high-deductible health plans (HDHPs) became more common. ValuePenguin research found that 52.9% of Americans with employer-sponsored insurance were enrolled in HDHPs in 2020, up from 39.4% in 2015.1
With deductibles continuing to rise, patients' financial responsibility for their care is higher today than ever before. As a result, providers have had to rethink their revenue cycle workflows to ease reimbursement challenges and successfully collect from patients. Not surprisingly, provider organizations that offer flexible, convenient ways for patients to pay for their care are well positioned to collect the full balance due.
A well-rounded patient experience includes more than bill pay, however. Patients of all ages now expect their healthcare providers to offer the same consumer-centric features they're accustomed to using in other industries, such as hospitality, retail and banking. If people can book hotels, buy cars and open savings accounts entirely online, why can't they schedule a doctor's appointment online, too?
A growing number of healthcare providers can now answer that question in the affirmative. The reason? They built a digital front door.
Key elements of a robust digital front door
The digital front door includes multiple entry points that work together as part of an omnichannel patient engagement strategy aimed at making care management easy, efficient and engaging. Ideally, providers can manage these entry points from a single platform.
Some of the most common elements of a digital front door include:
Patient self-scheduling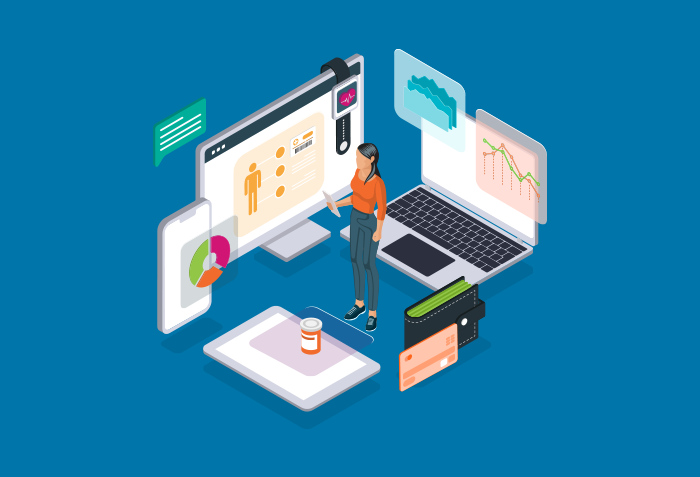 Online appointment scheduling allows patient to schedule their appointment from their preferred device anytime, anywhere. Self-scheduling improves access to care, which is one of the key contributors to patient experience. It also influences patient retention: an Accenture report found 78% of patients who switched providers in 2021 did so because of poor front-desk, administrative and/or digital front door offerings.
Self-scheduling also lightens the workload for schedulers, front-office personnel and call-center staff, allowing those workers to accomplish more with fewer resources. When paired with an end-to-end scheduling solution that automatically identifies and fills open appointment slots, providers can reduce revenue losses caused by no-shows.
Digital appointment reminders
Appointment reminders are a great way to ensure patients show up for their appointments—but having a staff member call every patient can drain valuable resources. Automated reminders sent via patients' preferred communication channels—voice, text message or email—helps improve efficiency and strengthen access to care.
Automating the process also gives providers more flexibility in their communication strategy and reduce no-show rates. In fact, healthcare organizations across Phreesia's network see 78% fewer no-shows among patients who receive appointment reminders. Those organizations also see 46% more appointments confirmed or canceled when using voice reminders—a testament to the power of the digital front door.
Targeted education and patient engagement tools
The digital front door is a prime opportunity to engage patients in their care, providing as little or as much support as they need. Moreover, healthcare organizations can leverage data from individual patients—and well as segmented and population-level data—to develop custom campaigns aimed at increasing patient activation.
As an example, imagine you work for a primary care practice with a patient demographic that skews older. With targeted patient engagement tools, you could send an educational message about breast cancer screenings to all women age 50 and older—along with a reminder to schedule a mammogram. You could then replicate that approach for all types of screenings—and even routine check-ups—to increase preventive care uptake within your patient pool.
Targeted patient engagement technologies can include not only email blasts, but also text messages and online chats. By using these channels to communicate with patients in their language of preference, you'll deliver optimal care and drive positive health outcomes at scale.
Two-way text messaging to complement your digital front door
Only two in 10 Americans answer calls from unrecognized phone numbers. Text messages, however, have a 98% open rate.
Two-way text messaging between administrative staff and patients offers a fast, convenient way to exchange information and deliver timely updates. It also gives staff the ability to communicate with multiple patients in a fraction of the time that would otherwise be spent making phone calls.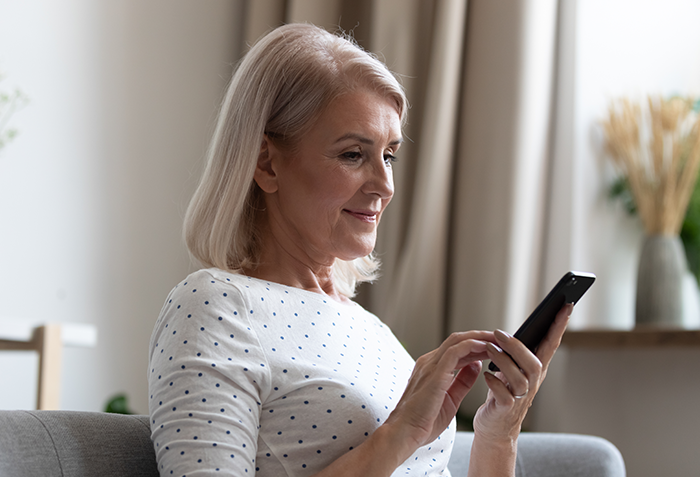 Moreover, two-way text messaging enables provider organizations to meet patients' technology expectations. A March 2021 Phreesia survey found that 67% of patients are comfortable communicating with their healthcare providers via text message—even greater than those who were comfortable with email (59%) or online chat (24%).
Younger adults may respond more readily to text messages than to phone calls or emails, but that doesn't mean older adults are tech-averse. In fact, 75% of adults age 65 and older enjoy using digital tools to communicate with their providers—and 34% consider it a "must-have" when choosing a doctor.
Digital patient check-in
Mobile check-in took off during the pandemic as healthcare providers worked to deliver a contactless experience. Because of its ability to provide both a safe and seamless experience, the feature has become an integral part of the digital front door for small practices and health systems alike.
Using their own mobile device, patients can check in for appointments from anywhere. A feature found within many virtual patient intake solutions, mobile check-in systems also allow patients to complete their registration from anywhere—either when they arrive or before they reach your in-person or virtual waiting room. Look for digital patient check-in systems that offer an in-office option, as well as integrations that suit your telehealth and EHR platforms.
Tablets and kiosks for on-site check-in
Patients can't always check in before they get to the doctor's office. They may be running late, forget to speak with front-desk staff or leave their mobile device at home. Fortunately, in-office check-in delivers an experience as seamless as pre-visit check-in. Even better, provider organizations who let patients check in on their own can save five minutes of staff time per visit or more, Phreesia data shows.
With a registration kiosk or in-office tablet, patients can check in using the same interface they would otherwise use for pre-visit check-in. Moreover, some kiosks and tablets and equipped with built-in wayfinding, ensuring patients know where to go and what to do from the moment they arrive.
Telehealth
It's well reported that telehealth visits skyrocketed during the pandemic. Virtual visits help improve access to care in rural communities as well as for older adults and other patients who can't easily drive to appointments.
During the pandemic, telehealth visits were a necessity as hospitals paused elective procedures and non-essential visits. Now that restrictions have eased, some patients still choose telehealth as their preferred channel for care, making it a valuable digital front door component. It's also a valuable revenue driver: A recent study noted that using telehealth to triage emergency department patients can save hospitals between $19 and $121 per visit.
Digital consent management
For doctor visits and clinical trials, a growing number of healthcare providers are embracing digital consent management. It's an important digital front door component that allows patients to sign HIPAA agreements, financial policies and other forms electronically, minimizing the need for paper and clipboards.
Once those consents are signed, they can be automatically sent to a provider organization's patient management platform or EHR. That means staff can spend less time on data entry and more time focused on meeting patients' needs.
Online payments
Collecting payments is one of the most challenging aspects of revenue cycle management in healthcare. And as patients' financial responsibility for their care increases, it's more important than ever to make paying bills as frictionless as possible.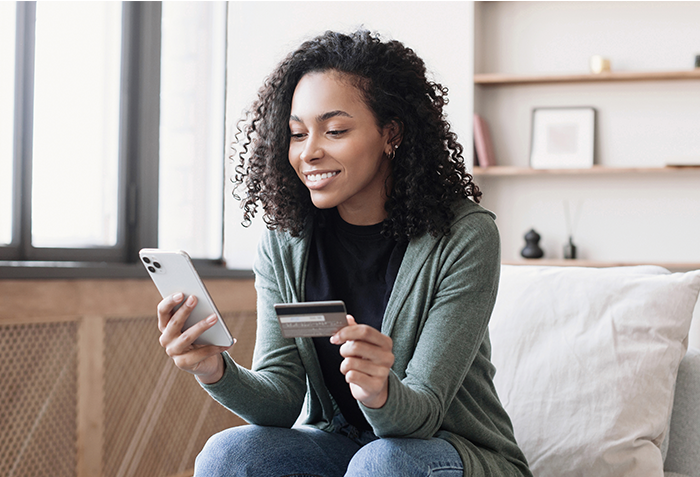 Phreesia's March 2022 survey found more than half patients (56%) want their provider to offer payment plans, automatic payments, the ability keep a credit card on file or a mixture of all three. Offering those modern, convenient features also helps healthcare organizations stay competitive, as 18% of Phreesia-surveyed patients said they would contemplate switching providers for the ability to pay their medical bills online.
With online bill-pay, healthcare providers can more seamlessly collect copays and outstanding balances from patients before, during or after they visit. And by adding Apple Pay® and Google Pay™ to the list of payment options, patients can pay their balances even if they don't have a credit card handy.
Self-service payment plans
In a 2022 Commonwealth Fund survey, about half (49%) of respondents said they could not pay an unexpected $1,000 medical bill. Fortunately, the No Surprises Act has helped minimize the likelihood of patients unknowingly receiving high-cost care. But the Act didn't change the cost of care, so healthcare organizations that offer payment plans can help patients meet their financial obligations in situations where they may otherwise struggle.
Customizable payment plans with flexible timelines and manageable monthly payments give patients more control of their finances. They also raise the odds that outstanding balances will be paid before an account is sent to collections.
Digital screening tools and patient-reported outcomes
Value-based care models rely on patient data—both clinician- and patient-reported—to measure and improve care quality. With an integrated digital front door, healthcare providers can gather patient-reported data during intake. Collecting data in advance allows providers to respond proactively to care quality concerns as well as infectious disease, chronic disease, and mental health symptoms.
Data collected during intake can be used for the following quality programs:
Healthcare Effectiveness Data and Information Set (HEDIS)
Uniform Data System (UDS)
Patient-Centered Medical Home (PCMH)
National Committee for Quality Assurance (NCQA)
Other applications can collect patient-reported outcomes (PROs) data to improve screening rates for various conditions—or even capture social determinants of health (SDOH) information to provide more holistic care.
Digital front door myth busters
While most providers have adopted at least one digital tool, misconceptions remain about some parts of the digital front door. A few of them include:
Myth: We don't need a digital front door—patient portals are enough.
While patient portals are a valuable tool for record-keeping and transmitting sensitive information, they don't offer the convenient features that patients want to use. To access a portal, patients have to create an account and remember their username and password—and in many cases, they have to use an app to log in.
Put simply, portals are not equipped to improve patient access. A digital front door outside the portal, however, keeps patients engaged at every step of their healthcare journey, from scheduling and check-in to payments and beyond.
Myth: A digital front door provides no benefit to older adults.
It's often assumed that patients age 65 and older don't understand how to use cell phones or the internet. Worse, they may be averse to technology altogether—and for healthcare leaders looking to modernize, that misconception fuels hesitation. If older patients feel uncomfortable using technology to manage their health, they may struggle to get the care they need.
Here's the reality: Older adults enjoy using technology, and they want it to play a bigger role in their healthcare experience. Most adults age 65 and over (92%) own a cell phone, and they're comfortable using it for just about everything. By leaning into that trend, provider organizations can meet older adults' needs and improve their access to care.
Myth: We shouldn't invest in a digital front door, because there's no ROI for improving the patient experience.
Healthcare is a competitive industry, and standing out is challenging. Mergers, acquisitions and consolidations can make it hard for patients to understand which care setting is part of which health system—or why they should choose your organization over others.
The solution? Focus with laser-like precision on enhancing the patient experience. When healthcare organizations focus on modernizing the patient experience, patients' favorable memories affect their future decisions. Positive healthcare experiences stick with patients and keep them coming back to you for their care.
Moreover, focusing on the patient experience can help you improve care quality. Deloitte research found that hospitals with excellent patient experience ratings (9 or 10 out of 10) performed better on certain clinical measures than those with low ratings.
Why practices of all sizes need a digital front door
A digital front door strategy requires capital investment for provider organizations of all sizes. Smaller medical practices should consider the long-term benefits of this investment as they decide whether to establish a digital front door strategy.
For example, small practices often lack the resources to hire more people or outsource administrative tasks—particularly during a staffing crisis. But by implementing the right technology, small practices can make the most of the staff they already have, giving front-office personnel more time to accomplish meaningful work.
Supporting your digital front door with real-time insights
Digital tools generate valuable data. Robust analytics and reporting enable healthcare providers to review trends over time and adjust their digital front door strategy as needed.
By embedding real-time analytics and reports within your digital front door, you can:
Learn what drives patient acquisition and retention rates
Keep tabs on your intake workflows
Monitor and optimize your top-line revenue
Promote better health outcomes
Ready to unlock your digital front door?
Health systems and medical groups need to maintain a competitive edge in our quickly changing healthcare landscape. In addition to providing specialized, high-quality services, they must also implement digital tools that improve access to care.
The digital front door creates seamless, convenient and accessible patient experiences. As the healthcare industry becomes more consumer-driven, provider organizations must embrace they types of technology their patients demand and staff expect. And by proactively investing in your digital front door, you'll be well positioned to attract and retain patients, engage them in their care and operate more efficiently in an ever-evolving industry.
Learn how Phreesia can support your organization's digital front door strategy.