What is medical check-in?
When patients first walk into a healthcare setting, they need to let staff know that they've arrived. Whether they write their names on a sign-in sheet, tap a button in an app or greet a receptionist in person, they've just started the medical check-in process.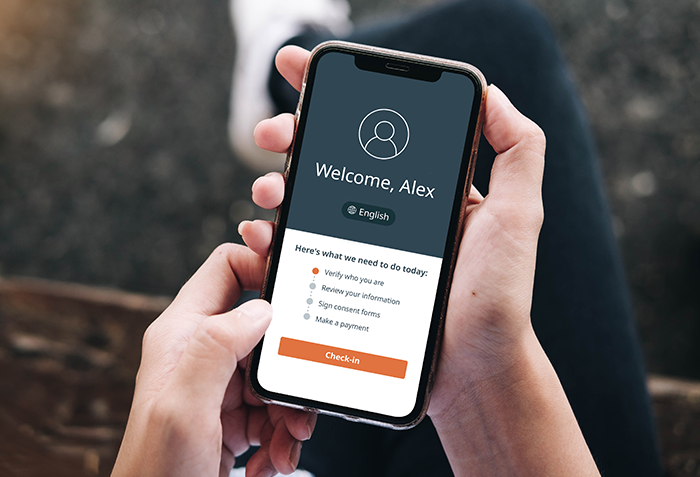 Medical check-in is the first step in patient registration. In addition to confirming a patient's arrival, medical check-in involves gathering important information for administrative, billing and insurance-verification workflows. The most common elements of a medical check-in system include:
Registration, including when patients update or confirm their contact information and enter their health insurance details
Updating records, which involves patients submitting or confirming their demographic information and medical history
Consents, including when patients sign or re-sign HIPAA agreements, financial documents, clinical forms and privacy policies
Payments, including when patients pay a copay, deposit or balance
How medical check-in has changed
Historically, patients wrote their names on a paper sheet to confirm their arrival and sign in. In the waiting room, patients flip through magazines, fill out forms and eventually move to an exam room.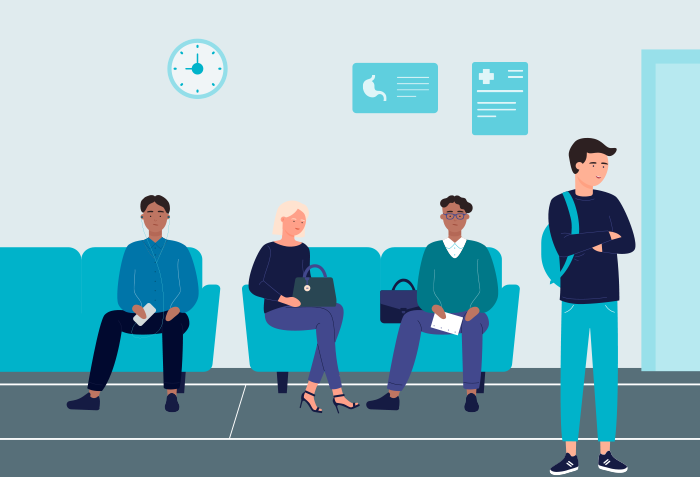 Technology changed the narrative. With digital patient intake platforms and paperless medical check-in, patients can register ahead of time from anywhere. Not only does contactless check-in make registration faster and more efficient, but it also improves the patient experience.
The reason? Patients enjoy using technology. They're used to using online bill-pay, online scheduling and other digital tools to manage their daily lives—and they expect their healthcare providers to offer those same conveniences. In fact, Phreesia's March 2022 survey found that 64% of patients prefer to check in online, and 29% said they consider it a "must-have" when choosing a doctor.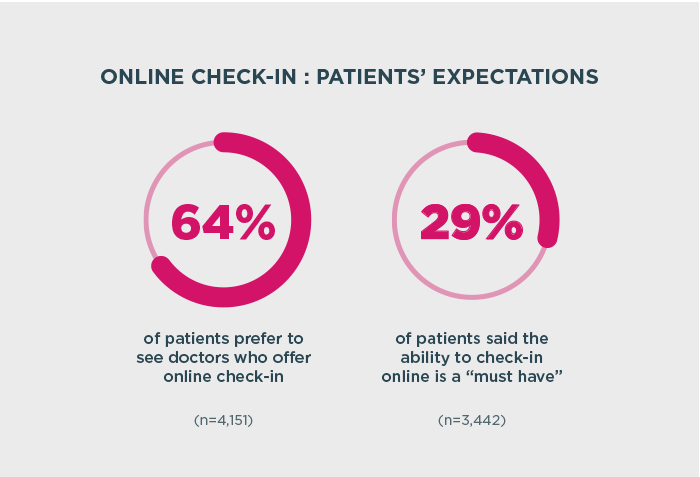 No doubt, patients of all ages are comfortable with technology—and they enjoy using it. Why not use it to enhance the medical check-in experience, too?
9 essential components of a high-quality medical check-in solution
Whether you're a busy medical practice or a large health system, improving the patient experience starts by implementing an intuitive and user-friendly medical check-in solution.
While typically offered as part of a patient intake platform, every vendor's medical check-in software varies in functionality and features. When evaluating potential vendors, be on the lookout for these nine essential medical check-in capabilities.
1. Multiple device options.
For the most convenient patient intake experience, give patients multiple contactless check-in options—such as tablets, patient kiosks and the ability to check in on a personal mobile device.
2. Insurance verification.
To avoid complications after patients leave the office, look for a medical check-in solution that verifies patients' insurance eligibility and benefits on the spot, rather than asking staff to do so manually.
3. Multiple payment options.
Make it easy for patients to remit their copays and balances during check-in. Some of the most convenient payment features include payment plans, payment reminders, online payments and card on file. In addition, look for vendors that offer flexible payment options, including FSA, HSA, credit and debit cards, as well as Apple Pay® and Google Pay™.
4. Digital consents.
A comprehensive patient check-in solution allows patients to e-sign privacy, financial and clinical policy documents from their own device. To lighten administrative workloads, look for a solution that automatically prompts patients when it's time for them to re-sign one or more policies.
5. Robust analytics.
Look for a medical check-in tool that lets you measure all the metrics you need to keep tabs on. Not sure where to start? Here are a few data points to monitor: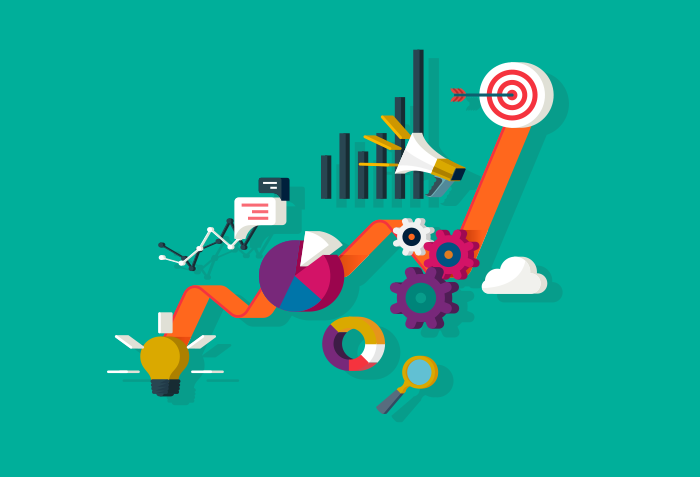 Utilization: Shows how many patients are using your check-in system
Financial performance: Lets you track and reconcile payments by source, date, visit type and more, both individually and by batch
Quality measures: Provides insights on screening rates, patient satisfaction and other data needed quality measure reporting
6. Pre-registration functionality.
One of the biggest advantages of digital medical check-in is the ability for patients to register in advance. For patients, that means less time spent in the waiting room—and for providers, it means more efficient throughput.
7. Speed.
Patients shouldn't have to wait for screens to load or payments to process—but some patient check-in solutions are prone to these problems. To avoid headaches, be sure to ask potential vendors about the performance of their web-based software.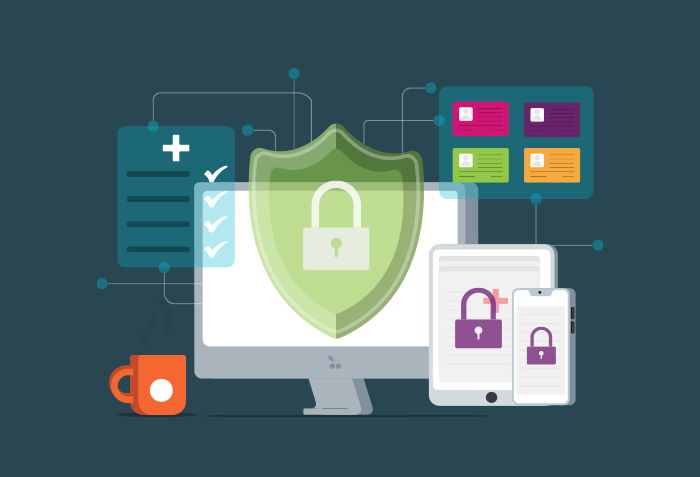 8. Privacy and security.
Ask medical check-in vendors whether they're certified by comprehensive security compliance frameworks, such as HITRUST and SOC 2. And when evaluating check-in systems that handle patient payments, be sure to only consider PCI-validated solutions that use tokenization and encryption.
9. Customization and integration.
Make sure the check-in solution you select integrates seamlessly with your EHR or PM system. Doing so allows you to collect and store patient information in both systems automatically, helping you avoid costly data-entry errors and empower your staff to work more efficiently.
5 reasons your healthcare organization should use digital medical check-in
Digitizing medical check-in not only provides patients the seamless digital experience they expect, but also helps keep labor and operational costs under control. Here are five reasons to implement digital medical check-in in your healthcare organization.
1. Use medical check-in to combat staffing shortages.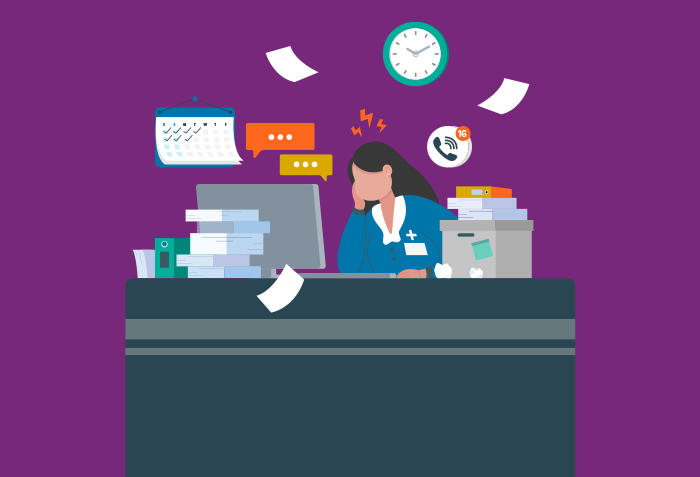 Staffing shortages and high turnover rates have reached crisis levels in healthcare. In the front office, these shortages lead to routine delays that frustrate staff and can damage the patient experience.
With digital patient check-in, you can keep patients engaged and make the most of the staff you have, even when you're running a tight ship.
By encouraging patients to check in before they arrive, you'll reduce inbound call volume, eliminate manual intake tasks and even increase time-of-service collections.
2. Shorten wait times and improve throughput with medical check-in.
The traditional process for medical check-in—based almost entirely on clipboards and paper forms—is slow and outdated. Electronic patient sign-in allows patients to register in advance from their own mobile device. They can review their information, update insurance details and sign relevant consents before arriving for their appointment. As a result, front-office staff can assist patients faster, helping to improve throughput and deliver timely care.
3. Meet patients' changing healthcare expectations.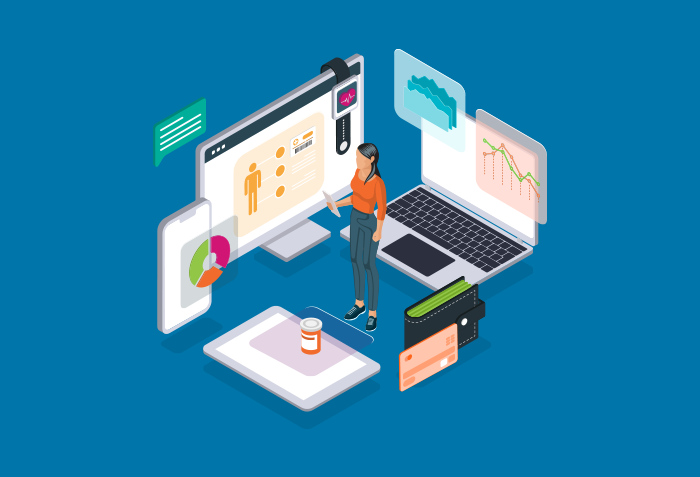 The popularity of mobile health apps and wearables—coupled with the intuitive digital experiences available in other industries—have changed patients' perceptions of healthcare. They expect to pay bills, book appointments and communicate with their providers online—and it needs to be as frictionless as an in-person experience.
Digital medical check-in meets these expectations by delivering a seamless digital experience across every facet of patient registration.
4. Let patients complete medical check-in using their preferred language.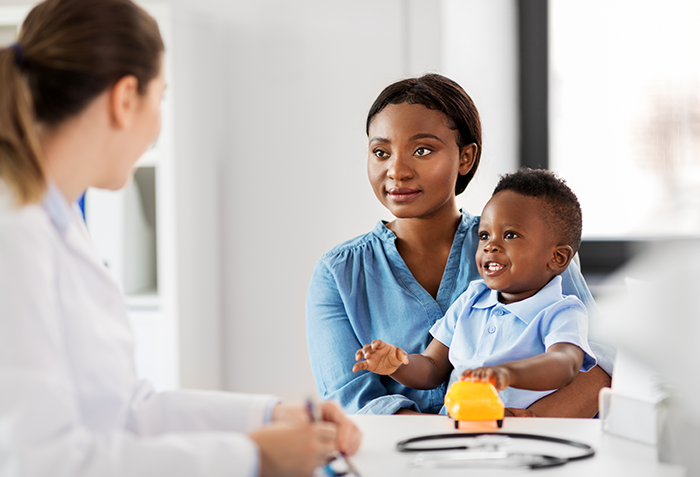 As healthcare providers work to provide more holistic care, it's especially important to communicate with patients in their language of preference. Communicating through a family member or translator is time-consuming and impersonal, and it raises the risk of miscommunicating important information.
Intake tools with multi-language capabilities help provider organizations improve care quality and bolster patient access, ensuring that patients with limited English proficiency receive the same high-quality experience as native English speakers.
5. Assess patients' social needs discreetly.
Social determinants of health (SDOH) have a major influence on health outcomes. Not surprisingly, addressing social needs like access to food, shelter, transportation and childcare has become a growing priority for healthcare providers.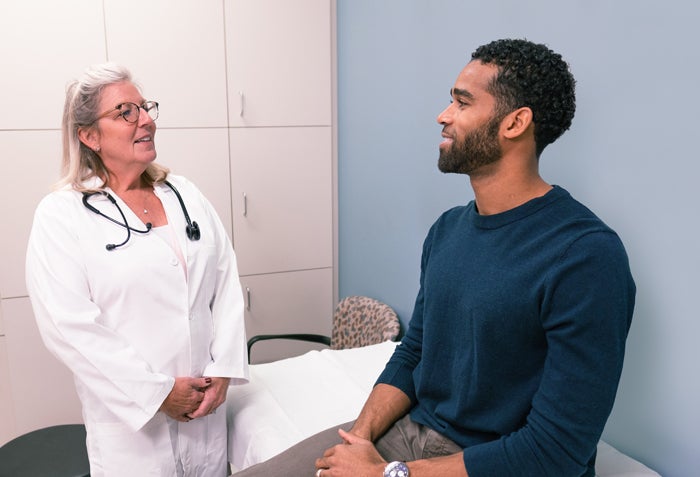 However, talking with patients about their social risks isn't easy. Some patients may feel uncomfortable answering sensitive questions in person, which can limit providers' ability to address their non-medical needs.
Automating SDOH assessments allows patients to respond privately from their own device, making them more likely to provide honest, forthcoming answers. And when clinicians have accurate information from each patient, they can more easily develop targeted interventions.
Conclusion
Medical check-in has evolved well past the point of clipboards, paper forms and sign-in sheets. Now, it's all about providing the seamless digital experience that patients expect. By digitizing the medical check-in process, healthcare providers can engage with patients in a way that's most convenient for them. Providers also can drastically reduce call volume and eliminate time-consuming manual tasks, freeing up front-office staff to focus on what really matters: building quality patient-provider relationships.
Learn how Phreesia can help you simplify and streamline medical check-in.