To improve care quality and enhance the patient experience, healthcare organizations need to know where they stand. One way to do so is by administering patient satisfaction surveys. Whether you get glowing five-star reviews or critical comments from patients, the feedback you receive will only help you improve your healthcare organization. And as your organization improves, patient acquisition and retention are sure to follow.
What are patient satisfaction surveys?
Patient satisfaction surveys are self-reported assessments that gather patients' feedback about their healthcare experience at multiple stages of their visit. Healthcare organizations can use data from patient satisfaction surveys—along with metrics like patient volume, visit length, wait times and retention rate—to identify areas of outperformance and find opportunities for improvement. Patient satisfaction surveys typically include questions about quality of care, access to care and customer service.
There are many types of patient satisfaction surveys, ranging from standardized assessments developed by CMS to questionnaires created in-house. Internally, healthcare organizations use patient satisfaction survey results to assess their strengths and weaknesses. Some assessments, such as the Hospital Consumer Assessment of Healthcare Providers and Systems (HCAHPS) survey, are used in conjunction with quality initiatives and can help improve transparency and accountability among healthcare providers.
What is patient satisfaction, anyway?
Patient satisfaction in healthcare equates to the level of happiness or unhappiness a patient feels toward their care quality, access to care or their provider's interpersonal skills. Put simply, patient satisfaction reflects how well your services meet patients' expectations. When patients' expectations are met, they're likely to keep coming back. When they aren't, providers risk losing patients to their competitors— and in some cases, they may face lower reimbursement based upon quality benchmarks.
For most healthcare organizations, patient satisfaction is influenced by the following factors:
Compassionate professionals
Accurate medical bills
Effective communication
Prompt care delivery
Assessing and improving patient satisfaction in healthcare has become increasingly important as system mergers and retail clinics change the competitive landscape. These types of organizations—equipped with larger budgets, retail expertise and vast networks—often offer seamless, omnichannel patient experiences. To stay competitive, other healthcare organizations must offer the same types of modern, convenient experiences at a scale that suits their patient population and budget.
Why are patient satisfaction surveys important?
As healthcare providers become more consumer-driven and patient-centric, patient satisfaction is integral to financial success. In addition to competing for patients with similar practices, healthcare organizations today must also compete with:
Large retail operations like Walmart
These alternative health companies attract customers by providing convenient, accessible care with digital and virtual services. Bain and Company predicts entities like these could capture 30% of the primary care market by 2030.
To retain existing patients and attract new ones, traditional healthcare organizations must double down on enhancing the patient experience and increasing patient satisfaction. Implementing digital technology is an important piece of the puzzle.
Patient satisfaction is closely tied to value-based care reimbursement models, too. CMS considers HCAHPS scores an incentive for providers to improve care quality. Medical groups, specialists, and other healthcare organizations can also use the Agency for Healthcare Research and Quality (AHRQ)'s Consumer Assessment of Healthcare Providers and Systems (CAHPS) surveys to get a better sense of patient satisfaction.
Understanding patients' experiences is crucial to assessing their satisfaction—and that's why surveying patients at the point of care is so important. Need more convincing? Here are eight key reasons to send patient satisfaction surveys.
1. Understand the patient experience.
Patient experience encompasses all the interactions patients have with their healthcare providers and their health plans. Patients today expect a digital-first experience that includes online appointment scheduling and mobile check-in, among other services. When providers don't meet that expectation, patient satisfaction scores suffer.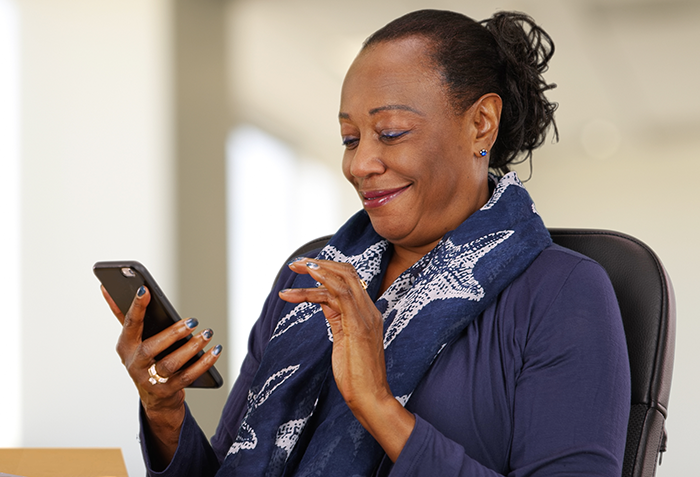 By administering patient satisfaction surveys, providers can ask patients for direct feedback about their appointment-scheduling experience, wait times and care quality, among other information. More importantly, healthcare organizations can use that data to invest in programs or technologies that help improve patients' experiences.
2. Improve patient loyalty and retention.
Patient satisfaction and retention go hand in hand. In fact, a Gallup study found that patient satisfaction correlates to patient loyalty across several key service areas. So, to convert new patients into loyal patients, it's important to understand what drives their satisfaction.
In addition to gaining insights from patient satisfaction surveys, healthcare organizations can use Net Promoter Scores (NPS) to gauge patient satisfaction. An NPS survey is a simple one-question survey used to assess patient satisfaction. With it, healthcare providers can uncover other clues to help improve patient loyalty and retention.
Patients who rate their experience a 9 or 10 out of 10 are considered "promoters" who are most likely to remain loyal and visit your facility again. To solidify that loyalty and encourage future referrals, be sure to tell those patients how much you appreciate their business. In addition, consider asking promoters to provide a testimonial or share a positive online review.
3. Promote better health outcomes.
As patient satisfaction survey scores improve, so do patient outcomes—and there's plenty of research to back it up. A 2018 study that analyzed responses from Medical Expenditure Panel Survey (MEPS) data sets found that patients in poor physical or mental health were more likely to report poor satisfaction compared to those in good health. In addition, patients of higher socioeconomic status and education level reported slightly higher levels of patient satisfaction.
An earlier study assessing outcomes and satisfaction levels found that academic medical centers with low mortality indexes had higher satisfaction scores than other institutions. It also found that positive feedback on nurse and physician communication correlated with a lower mortality index.
4. Inform experience improvement efforts.
Many healthcare organizations have transitioned from paper-and-pencil workflows to automated processes for registration, check-in and revenue cycle management. But with all these choices, how can your organization choose where to start?
Results from patient satisfaction surveys can help you identify areas of highest priority so you can make informed quality improvements and better strategic decisions. Let the data show you where to focus your time, energy and resources. If "ease of scheduling an appointment" receives a consistently low score, for example, consider reallocating resources toward an online scheduling solution.
5. Deliver patient-centered care.
Patient satisfaction correlates to high-quality, patient-centered care. Convenient options for scheduling, payments and engagement, for example, make it easy for patients to manage their care throughout their daily lives.
Other patient-centered care tactics seek to minimize routine annoyances. Consider St. John's Regional Medical Center in Oxnard, California— an organization that worked to reduce noise and stress levels as part of a patient-centered care initiative. Clinicians installed "voices down" signs—and gave patients ear plugs and light-blocking masks—to help muffle regular interruptions. These small tokens helped patients sleep better and lowered stress levels, both of which facilitated healing.
To get a sense of whether your organization is successfully delivering patient-centered care, add a few patient-centered questions to your patient satisfaction surveys. Then, assess the responses you receive to inform your own patient-centered care strategies.
6. Attract patients and boost revenue.
Research from the Technical Assistance Research Programs (TARP) found that satisfied customers tend to share positive experiences with between four and five others. But according to one study, customers are more likely to share negative experience with others than positive ones.
To amplify positive patient experiences, consider encouraging satisfied patients to recommend your practice by word of mouth, on social media or by writing an online review. Personal recommendations are an effective way to acquire new business, and they're much more budget-friendly than an advertising campaign.
7. Improve reimbursement and inform quality initiatives.
Healthcare organizations that operate under a value-based care model have good reason to regularly administer patient satisfaction surveys: reimbursement.
Under the Affordable Care Act, HCAHPS scores are used to determine patient experience-related reimbursement under value-based programs. That means hospitals must report their HCAHPS scores to receive full Medicare reimbursement. HCAHPS is the basis for the Person and Community Engagement (PCE) domain, which accounts for 25% of the Hospital Value-Based Purchasing Total Performance Score (TPS). Another version of the CAHPS survey is used for practices that participate in CMS's Merit-based Incentive Payment System (MIPS).
8. Manage your online reputation.
The speed at which patients can spread good or bad news has increased to near-real-time, due largely to social media and online review sites. By administering patient satisfaction surveys at the time of service, you'll increase the odds of receiving positive patient feedback.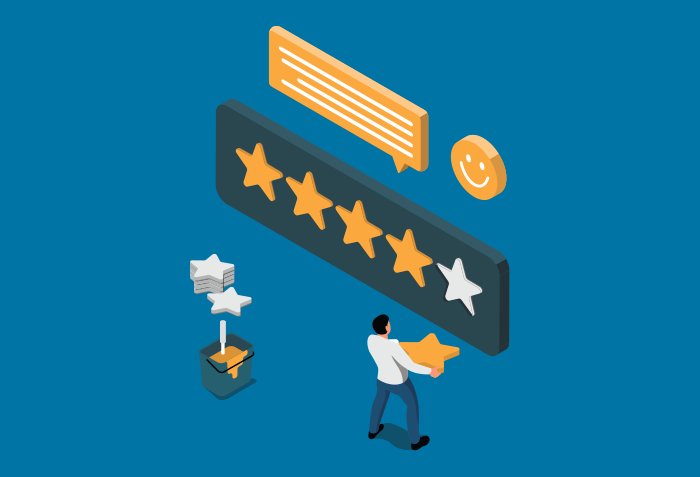 To encourage patients to leave a review on your practice's website—or on third-party platforms like Yelp, Google and Healthgrades—consider adding a link to a review site at the end of the survey. Whether the feedback you receive is positive or negative, be sure to alert your staff of any comments you receive so they can promptly respond.
8 key elements of high-quality patient satisfaction surveys
Survey questionnaires, including patient satisfaction surveys, must be carefully worded and tactfully implemented. They must include questions that address quality of care, access to care and customer service—but without overwhelming patients with too many prompts of the same type. Healthcare organizations must also develop a plan for how to interpret and act on the survey results they receive.
To get the most accurate, actionable feedback from your patients, follow these best practices:
1. Use standardized scales.
Be consistent when measuring patient satisfaction, both in your survey questions and in your response to patients' feedback. To ensure consistency, and to best gauge how your organization compares to others, consider using a standardized patient satisfaction survey.
The CAHPS survey, for example, was designed to collect data on patients' perspectives on topics that matter to them. CMS has developed CAHPS surveys for hospitals as well as home health care, pediatric hospitals, specialty providers and other outpatient and ambulatory surgery providers. CMS also offers a hospital survey template for these types of groups. https://www.aafp.org/pubs/fpm/issues/2011/1100/p9.htmlThe American Academy of Family Physicians has a similar template available for medical groups and private practices.
Should you choose to develop your own survey, be sure to use a consistent scale for questions that aren't open-ended. The National Committee for Quality Assurance (NCQA) recommends a five-point scale, though a 10-point scale ranging from "strongly disagree" to "strongly agree" is another common option. By keeping your scale and your questions consistent, you can more easily measure attitudinal responses.
2. Ask simple, straightforward questions.
Keep patient satisfaction survey questions short, simple, specific and related to your focus areas. When evaluating departments, it's best to keep questions focused on a specific team, rather than on an individual. For example, asking, "How well did your nurse listen to you?" may not help you collect holistic feedback. Instead, try asking patients, "How well did your nurses listen to you?"
To collect accurate and actionable survey responses, be sure to avoid these types of prompts:
Vague questions. If your prompts are too vague, patients' responses will be, too. So, don't ask, "How would you rate cleanliness?" Instead, be specific: "How would you rate the cleanliness of the waiting room?"
Two-part questions. Making respondents assess multiple factors at once can skew your survey results. So, don't ask patients, "How polite and professional were the front-desk staff?" Instead, be straightforward: "How courteous were the front-desk staff?"
Confusing questions. Patients may have trouble understanding your questions—or even skip them entirely—if the language is too complex. Don't ask, "Were care coordinators empathetic to your considerations and inquiries?" Instead, keep it simple: "How well did you feel your nurses understood your concerns?"
'Yes' or 'no' questions. Binary questions don't provide actionable data. Rather than asking patients if they received high-quality care, for example, ask them to rate your organization's care quality on a numbered scale.
Finally, wrap up your patient satisfaction survey by asking patients about their experience overall. HCAHPS uses a 10-point scale for this type of question.
3. Include at least one open-ended question.
Open-ended questions give patients an opportunity to share opinions and experiences in their own words. These questions provide additional insights that five- and 10-point scales can't measure. They also allow patients to compliment or critique aspects of your organization that may not be addressed in closed-ended questions.
These critical assessments may help mitigate response bias in patient satisfaction scores. No matter the feedback you receive, written responses in patient satisfaction surveys provide rich detail that can help you inform process improvements, giving providers the information they need to further elevate the patient experience.
4. Collect demographic data.
Demographic information obtained through patient satisfaction surveys can help determine whether you're providing a consistently positive experience for people of all ages, genders and ethnic groups. It can also help you focus your improvement efforts to maximize impact.
For example, if you consistently receive low communication scores from patients with limited English proficiency, you'll be well equipped to assess your processes and make targeted changes. Are your registration forms available in multiple languages? Do patients have to communicate through a translator or family member? Understanding those factors can help inform your process improvements, such as implementing a multi-language intake platform that lets patients communicate in their language of preference.
In addition to collecting demographic information, providers may find value in asking about the patient's health plan. Knowing whether scores vary from plan to plan can help both providers and payers meet patients' needs.
5. Use automatic prompts.
Healthcare research firms can manage patient satisfaction surveys and tabulate results, but their services often come at a premium. And while you could always send and process surveys in-house, doing so may consume precious labor hours.
Automated patient satisfaction survey platforms allow you to send surveys in-house without needing to manually manage lists, process paper forms and calculate results. Patients can complete the survey on a computer, phone, tablet or other mobile device at a time and place that's most convenient for them. Some automated solutions also give providers real-time access to survey data, which allows organizational leaders to identify and address issues as they arise.
6. Keep it anonymous.
In healthcare, privacy is paramount—and that applies to patient satisfaction surveys, too. That's why it's crucial to keep survey responses anonymous—and to let patients know that their responses will remain confidential before the survey begins. Patients are more likely to provide honest feedback if they know their responses will be anonymized. And by collecting authentic responses, you'll have higher-quality data to help you improve your practice.
The downside of anonymity is that it can limit your staff's ability to follow up with patients. To mitigate this, consider allowing patients to voluntarily provide their contact information so that a representative from your facility can get in touch with them.
7. Use patient satisfaction surveys to prompt action.
After completing a patient satisfaction survey, most providers simply thank patients for their time. Why not encourage satisfied patients to take the next step?
With digital patient survey tools, you can automatically prompt patients who submit positive responses to share their experience on your preferred review site—such as Yelp, Google, Healthgrades or RateMDs. Automated solutions also allow you to send a one-question NPS survey to relevant patients, which can help boost your organization's promoter score.
8. Collect actionable insights.
If you use an online survey tool, you'll have results immediately available to download and assess. But before you start compiling scores, take note of any negative responses. If patients provide their contact information after leaving poor feedback, ask staff to promptly follow up with them to resolve the situation. It's good customer service, and it's an important aspect of reputation management that will help prevent negative reviews online.
After enough patients have responded, you can compile and analyze the results. Be sure to segment the data to better identify your organization's strengths and weaknesses among different patient populations. Then, share the information with relevant departments and brainstorm possible solutions. Don't forget to reward your five-star teams for their great work!
Pros and cons of patient satisfaction survey methods
There are several ways for healthcare organizations to administer patient satisfaction surveys, from mailed paper forms to digital questionnaires. Each method has its advantages and disadvantages—particularly as they relate to time, resources and expenses.
Different administration methods also have different response rates. For example, CMS found that patients surveyed using telephone and interactive voice response (IVR) provided more positive responses than those surveyed using mail or a combination of mail and telephone. Based on its research, CMS adjusted its HCAHPS score calculation.
Paper-based patient satisfaction surveys
Traditionally, healthcare organizations have used direct mail to distribute patient satisfaction surveys. Mailed surveys have a few key upsides: Patients can complete the survey in private, whenever and wherever they want, and they have ample time to fill out open-ended questions. Plus, a piece of paper on their kitchen table serves as a daily reminder to complete the task.
But in recent years, healthcare organizations have begun turning away from mailed paper surveys. In an effort to improve response rates, AHRQ has been exploring alternative survey channels, such as email- and web-based surveys.
The driving force? Patients of all ages are comfortable with email—and even most older adults use it daily. In addition, paper surveys may never get answered if a patient moves away or has an incorrect address on file.
Mailed surveys are also falling out of favor for financial reasons—namely the hard costs associated with paper, printing and postage. Paper survey results must be manually entered into a database, meaning staff have to spend extra time doing so. And if patients are asked to complete paper surveys on-site after their visit, it can negatively impact their healthcare experience.
Telephone surveys
Telephone surveys are popular inside and outside of healthcare. Almost all Americans (97%) use some type of mobile phone, and a few still have land lines. Response rates for phone surveys tend to skew higher than mailed surveys. Administrative staff can also compile phone survey results faster than paper surveys because they don't have to wait for patients to manually return forms.
That said, phone-based patient satisfaction surveys have their limitations. They can usually only be administered during business hours, and a majority of calls may get ignored: About 80% of Americans don't answer calls from numbers they don't recognize. When callers do reach patients, they often have limited time to engage with them—and if the call lasts too long, patients might get frustrated and hang up.
Unless automated, telephone surveys also drain staff resources. Providers will need people to place the call, validate responses and tabulate results. This may not be feasible for short-staffed organizations. Instead, digital tools can take on this work, including analyzing results in an easy-to-understand format.
Digital surveys
Digital tools are becoming a more popular way to deliver patient satisfaction surveys. With technologies like text messaging and email, healthcare organizations can send patients a secure, confidential link to a webpage with the survey questions.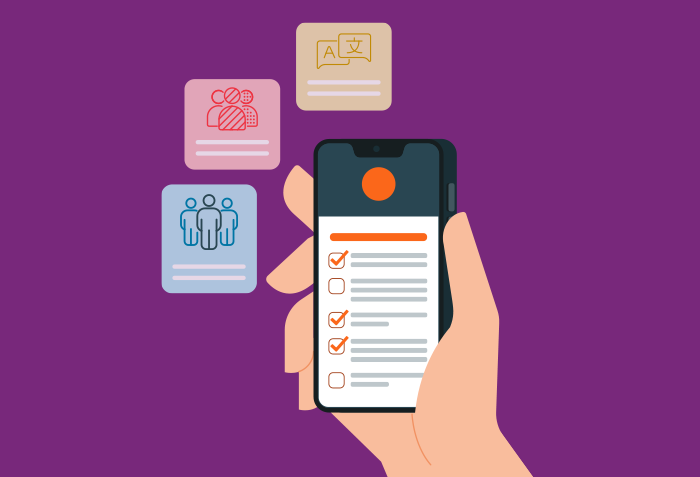 Much like paper, digital surveys can be completed at the patient's convenience. They allow patients to respond to open-ended questions in private, and they can better enforce which questions are mandatory and which can be skipped. And while emails sometimes get buried, they can't be physically lost like a paper survey.
Digital patient surveys also alleviate staff burden. Surveys can be sent automatically within 24 hours of an appointment or within a timeframe of your choosing. Healthcare survey vendors typically offer a secure, private platform that's easy for patients and staff to use. The software automatically inputs results into the system, saving hours of time—and it enables staff to analyze response data by segment.
Still some healthcare organizations worry that older patients may not understand how to access digital surveys. But research shows that older adults are comfortable with technology, and they want more ways to use it. In fact, a 2022 Phreesia survey of more than 4,000 patients found that adults aged 65 and over prefer tools like online check-in and self-scheduling. Most people in this age group (72%, according to AARP) own a smartphone—and 88% of those adults use their smartphones daily.
No doubt, technology is paving the way for providers to deliver the modern, convenient healthcare experience that patients of all ages expect. So if you're still relying on paper- or phone-based surveys, it may be time for an upgrade.
Conclusion
For most healthcare organizations, patient experience and patient satisfaction are major areas of focus—and that means collecting patient feedback is more important than ever. A well-crafted patient satisfaction survey provides rich information to help providers assess patients' perceptions, improve their organization's operations and refine how they deliver care.
By using technology to administer patient satisfaction surveys in an efficient, cost-effective and convenient way, you can give your staff the feedback they need to meet patients' needs and make the patient experience your differentiator.
Learn how Phreesia can help you collect accurate, high-quality patient feedback when it matters most.