What are ancillary services in healthcare?
Ancillary services in healthcare include a range of services that support physicians, such as laboratory tests, medical equipment and rehabilitation programs. Ancillary services are typically classified into three categories: diagnostic (radiology, diagnostic imaging, etc.), therapeutic (physical and occupational therapy, massage, nutritional counseling, etc.) and custodial (hospice care, nursing facilities and urgent care).
Adding ancillary medical services can be a great way to boost your practice's revenues and better meet your patients' needs. But how do you know if adding an ancillary medical service is the right move? And once you've made the leap, how should you market and promote those services to ensure success?
To find out, I spoke with Dr. Neil Baum, Professor of Clinical Urology at Tulane Medical School in New Orleans, and author of several books, including Marketing Your Clinical Practice-Ethically, Effectively, and Economically and The Complete Business Guide To a Successful Medical Practice.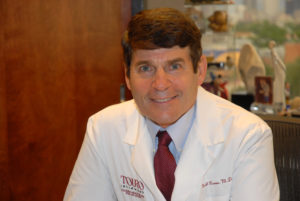 What are some of the potential benefits of adding ancillary medical services to a practice?
Patient satisfaction is the biggest one. Patients are looking for that one-stop-shop experience and they really appreciate when multiple services are available at one location. If you're able to dispense medications at the time of service, patients don't have to drive to the pharmacy. If you have onsite imaging services or labs, those are other additional stops they don't need to make. That's a big satisfaction driver for patients, especially when they're feeling sick. It's a great way to put patients first.
The other benefit, of course, is that adding these services can be financially lucrative, provided that a practice actually has enough business to make it worthwhile.
How does a practice decide whether to add these ancillary services—and if so, which ones?
You decide by doing a thorough economic analysis of the services you're currently sending out. For instance, if you're thinking about adding ultrasound to your practice, you need to determine how many ultrasounds you sent out in the last 12 months. Then you need to figure out the cost of machines, maintenance and upkeep, added staff and any other potential expenses. Look at those numbers and ask yourself, "Can I afford to make to make a profit if I provided this service?" And remember, if you do offer a service in-house, you'll likely perform more tests than when you sent them out to be done in other places.
You should also look at your community to see if there is an unmet need for the type of service you're thinking of adding. That can be easier to determine in a more rural setting, but harder to do in an urban area with a lot of concentrated healthcare services. In urban areas, I usually recommend looking at how many tests your practice orders.
Why is it so important for a practice to market and promote its ancillary medical services? What are potential risks if they don't?
It's absolutely vital. If patients are not aware of the additional services you're offering, they won't use them. It's that simple. For instance, it's very popular today for primary care practices to have a nutritionist on staff. In those practices, it's essential that patients know that nutrition services are available and what they entail. Effective marketing also lets doctors in the community know that these services are now available at your practice.
What are some of the specific ways that practices can market their ancillary services?
First, I think it's important to say that I don't think practices need to hire a marketer or a PR person. There are lots of inexpensive—or free—ways to spread the word about your services. Simply putting up posters in the waiting room and exam rooms does wonders.
Look at every available digital channel to promote your ancillary service, including your practice's newsletter, website, blog, social media accounts and YouTube channel. And be sure to regularly check your online reviews to see what patients are saying.
Pay attention to SEO, too. Use keywords on your website that will help your practice and your ancillary service score as high on search results as possible. Ideally, when patients in your area search online for a service that you provide—whether it's in-house pharmacy or lab testing or imaging—your practice should be on page one of those results.
There are other creative ways to market your ancillary service, including by reaching out to local service clubs, such as Kiwanis, the Lion's Club or the Rotary Club to see if you can come and give a brief talk. When I gave these talks, I took business cards and handouts about the new service I had in my practice. Sometimes I even brought a staff member who scheduled appointments right at the event. This approach takes a lot of advance planning—these clubs' schedules are often booked out months in advance—and your talk needs to be easy to understand and engaging, but it can be worth it.
This is more PR than marketing, but you can also call local reporters and explain why the new service is valuable to your community.
What information should those ancillary-services marketing efforts include? Is there an educational aspect to these messages?
Your marketing messages should address in plain, simple language patients' frequently asked questions about that service. What will the test show? Is it invasive? Does it involve radiation? When will I receive my results? Will my insurance cover this? What does this service entail? What are the benefits? How late is the pharmacy open?
How many questions you answer will depend on what type of marketing you're doing. For instance, a waiting-room poster will have just a few key details on it, while your website should have more extensive information about the ancillary services you offer.
Any final thoughts?
My bottom line is if you want your ancillary services to be successful, you can't just bring them on board and hope they will work. They absolutely have to be marketed and promoted, and practices that fail to do so will be disappointed with their performance.
Spread the word about your medical practice's ancillary services with Phreesia's patient engagement software.