Leverage the patient intake process to create sustainable programs that engage patients in their care, educate them about your ancillary services, and communicate with them before, during and after the visit for a seamless patient experience.
Health Campaigns
Phreesia Health Campaigns allows you to connect with patients before, during or after the visit through targeted messages that engage them in their care, drive follow-up appointments and enhance quality performance for your organization. You can educate patients about the care they need and then give them the opportunity to take charge of their health. Patients can easily self-schedule or request the appropriate appointment, such as Medicare annual wellness visits or diabetic eye exams.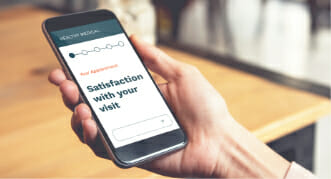 Surveys
Do you know what patients think about your practice? Phreesia's post-visit patient satisfaction surveys give you the tools to find out more about the patient experience. Designed to align with industry standards, you can track your Net Promoter Score®, measure key drivers of patient satisfaction and more.
Announcements
Phreesia's patient engagement software sends patients branded emails to share important announcements such as new locations, office closures and added services.