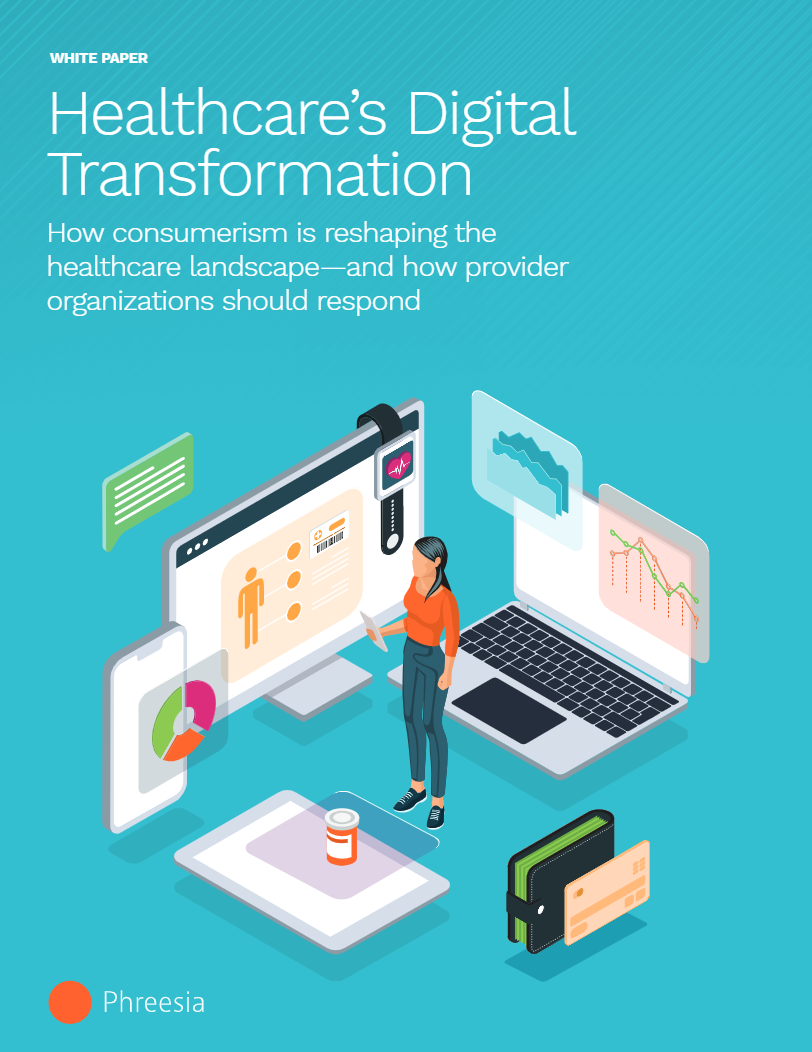 This is the second in a series of blog posts on how advancements in healthcare technology have reshaped patient behavior, preferences and care expectations. The data featured in this series is based on survey responses from more than 4,000 patients across Phreesia's network and is included in our new, free white paper, Healthcare's Digital Transformation: How consumerism is reshaping the healthcare landscape.
The burgeoning use of mobile applications, wearable devices and online services over the past decade has put consumers in the driver's seat. Nearly 9 in 10 Americans own a smartphone, and they're comfortable using it not only to communicate, but also to shop, bank, work and even research their health conditions.
Today's consumers use technology for just about everything, and they want more digital ways to engage with their doctors. But before investing in new patient-facing technologies, provider groups need to determine which tools make the most sense for their organizational needs.
To effectively engage patients, healthcare organizations need to adopt the modern communication channels their patients already use. When patients look for a new doctor, they start their search online. When they need to communicate with their provider's office, they like to do so digitally. And when it's time for their next appointment, they prefer to receive a text-message reminder—not a paper appointment card.
Those are some of the key takeaways from Phreesia's recent survey of more than 4,000 patients conducted over a one-week span in March 2022 as they checked in for doctors' appointments.
The vast majority of survey respondents (88%) said they enjoy using digital messaging—like text messages, emails and online portals—to communicate with their doctor. Yet only 31% of patients said they used online tools to communicate with their doctor's office in the past year.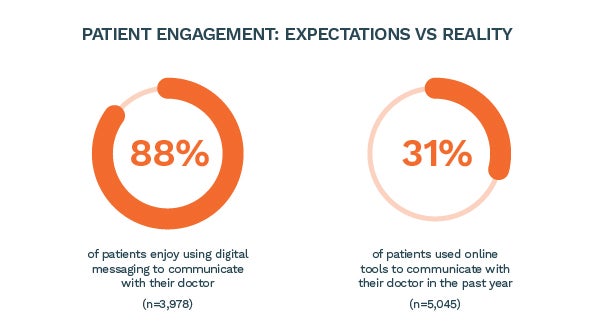 It's not for lack of desire: 41% of surveyed patients said the ability to communicate via email or text message is a "must-have" when choosing a doctor. That's higher than the percentages of patients who cited online capabilities as a "must-have" for appointment management (36%), check-in (29%) and payments (22%).

COVID-19 certainly accelerated the digital-engagement push by several years. In a 2020 Accenture survey, 9 in 10 patients said the healthcare they received during COVID-19 was as good as or better than before the pandemic. Among those patients, 40% cited "more convenient access through new communication channels" as a catalyst for improved care.
But which digital channel do patients prefer? Hint: It's not just one. Among Phreesia-surveyed patients, 65% said they want to communicate with their doctor's office via phone, and 55% said they want to do so via text message. Less than half (46%) want to communicate via a patient portal, and 4 in 10 want to communicate via email. Only 2% of patients said they want to communicate with their doctor's office in other ways.
Patients' preferences vary by communication purpose, too. For example, according to Phreesia's survey, 92% of patients want their provider to send appointment reminders—and 86% would like to receive those reminders via text message. That's nearly double the percentage of patients who want to receive appointment reminders via email (45%) and far surpasses the percentages of those who prefer reminders via phone call (30%), patient portal (22%) or paper appointment card (11%).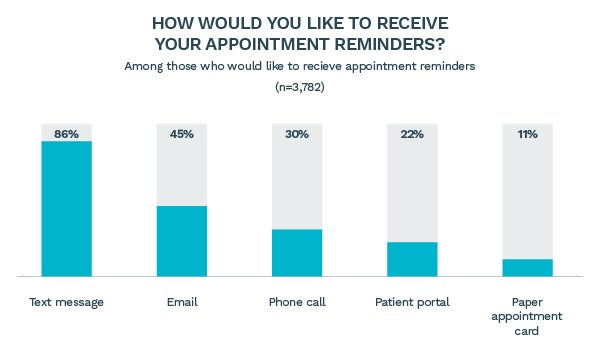 Put simply, embracing digital communication can boost patients' involvement in their healthcare decisions—and providers who implement multiple channels to reach them can expect to see greater retention, fewer no-shows and happier patients overall.
But before introducing new communication technologies, healthcare organizations should first consider their business objectives. If no-shows are a problem, providers can send automated appointment reminders to engage patients before their visit. If patient satisfaction is low, two-way text messaging can boost it by providing more personalized engagement. And if retention is a challenge, sending post-visit surveys can help healthcare organizations gather actionable feedback, stay competitive and keep patients coming back.
Prioritizing engagement through optimized communication benefits healthcare providers and patients alike. Medication adherence, better health outcomes and low care-coordination costs are all indicators of activated patients. And when patients are actively engaged in their care, providers can save time, reduce no-shows and more easily deliver the consumer-centric care patients expect.
Learn how Phreesia can help you operate efficiently, improve access and engage more patients in their care.