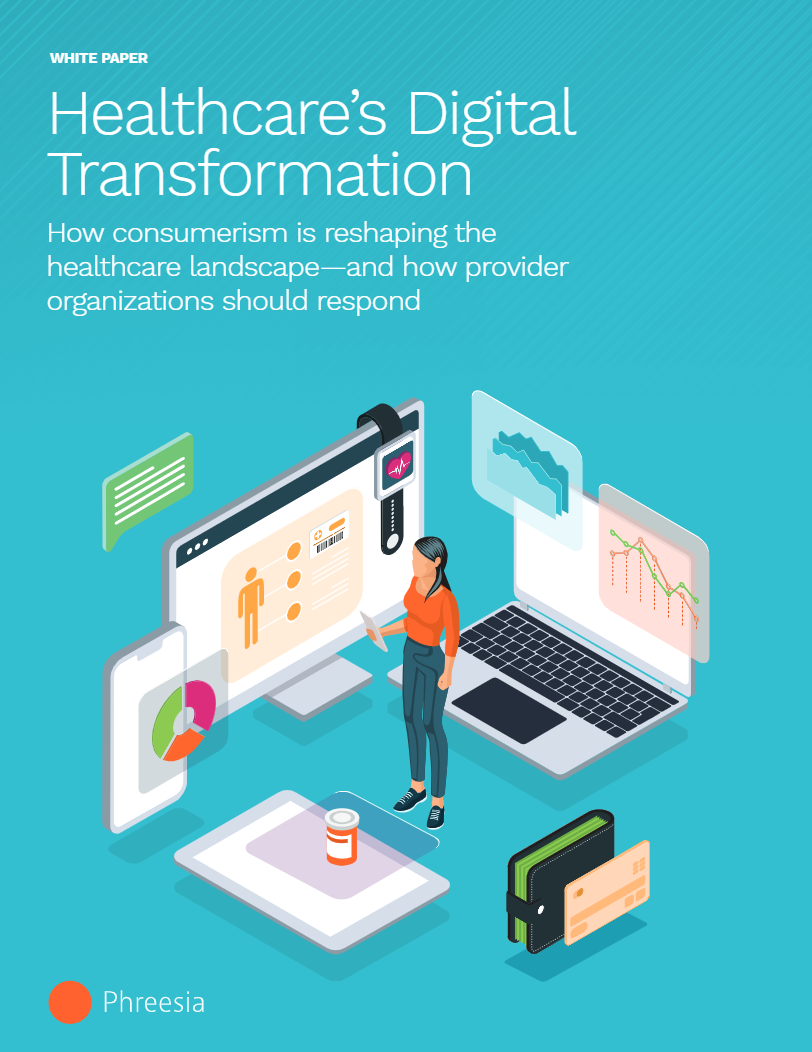 This is the third in a series of blog posts on how advancements in healthcare technology have reshaped patient behavior, preferences and care expectations. The data featured in this series is based on survey responses from more than 4,000 patients across Phreesia's network and is included in our new, free white paper, Healthcare's Digital Transformation: How consumerism is reshaping the healthcare landscape.
For most patients, the process of booking and confirming a medical appointment is not a positive experience.
When patients call to schedule a doctor's visit, they spend more than eight minutes on the phone, on average. And long hold times are only part of the problem. Often, appointment scheduling is offered only during traditional work hours, and many patients can't make phone calls during that time because of work or family commitments.
Managing patient appointments is challenging for provider groups too, especially for organizations trying to operate efficiently with limited staff. When staff are busy answering phones, they have less time to focus on patients, and the patient experience suffers.
But the pandemic made those tiresome calls a construct of the past. When healthcare organizations had to ramp up their technology investments overnight, patients discovered the ease and convenience of digitally managing their appointments.
Now, patients are eager to self-schedule or request an appointment online, rather than calling to book a visit. They want to check in on their mobile device, not in the waiting room. And when it's time for their next appointment, they expect to receive a text-message reminder—not a paper appointment card.
Those are some of the key takeaways from Phreesia's recent survey of more than 4,000 patients, the vast majority of whom said they would likely book (84%) or reschedule (82%) a healthcare visit online if given the option.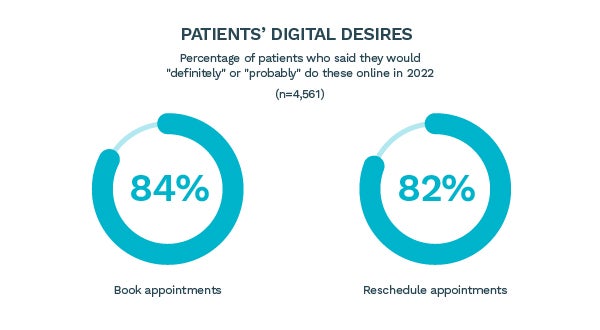 What's more, nearly two-thirds of survey respondents (64%) said they prefer to see doctors who offer an online patient check-in option, and 29% said they consider that option a "must-have" when choosing a doctor. In fact, nearly 1 in 6 patients said they would consider switching providers just to have the ability to check in online.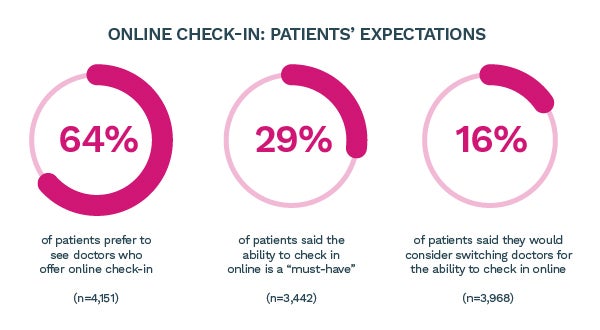 Those results fall in line with a 2019 Accenture study, in which 68% of patients said they were more likely to choose providers who offered online ways to book, change or cancel appointments. Patients today are digitally savvy, and their healthcare preferences are influenced by the same consumer-centric features—convenience, personalization, transparency, high-quality service—they're accustomed to seeing in other industries.
Yet patients' healthcare experiences have yet to fully align with their preferences. Barely half of Phreesia-surveyed patients (54%) said they checked in for a medical appointment online in the past year. Less than one-third scheduled a visit online, and even fewer (16%) said they rescheduled online.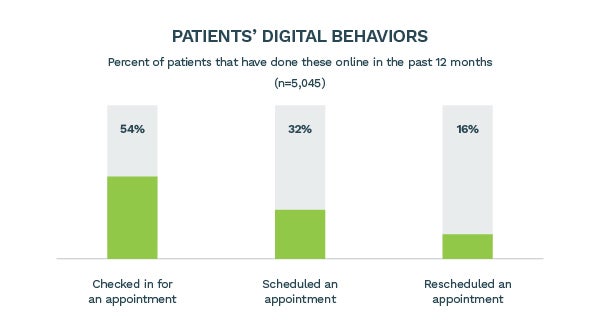 Why do so many patients want to manage their appointments online? The short answer: It's easier. Among Phreesia-surveyed patients who checked in online for a medical visit in the past 12 months, more than half cited convenience (61%) and speed (59%) as the top value drivers. And among those who scheduled an appointment online, 55% said they did so because it was faster than calling in.
The upside for providers? Investing in online services fuels patient engagement. When patients can use digital tools to manage their appointments, they're more likely to show up for them and less likely to delay important care. The end results are better access to care, fuller schedules, more efficient intake workflows and happier patients.
There's still a disconnect between patients' appointment expectations and their experiences. But for forward-thinking provider groups, that's actually good news. By offering flexible ways for patients to self-manage their appointments, healthcare organizations can increase satisfaction, improve retention and position themselves to bring in new patients—all while alleviating manual responsibilities for front-office staff.
Learn how Phreesia's appointment tools can help you streamline scheduling, increase access to care and deliver the modern, convenient experience patients expect.