Laurie Morgan is senior consultant and partner at Capko & Morgan. Her practice management consulting work focuses on operational excellence, revenue capture and the effective use of technology. Her latest title, "The People-Profit Connection: Smarter Staffing for Practice Profitability," focuses on how the right staff using the right technology can elevate practice productivity, profitability and patient service.
Healthcare organizations are often quite busy during the last months of the year, so spending time and resources to market your medical practice during the holiday season may seem unnecessary or even wasteful. Patients who've postponed procedures may suddenly realize they can save money by booking them before December 31st, and that means scrambling to fit them into your schedule—even as the holidays cut into your available appointment days. So it wouldn't surprise me if you're thinking, "Don't we have enough to do during this hectic time without adding marketing to the mix?"
But here's the thing: The holidays are actually a great time to market your practice! The season is conducive to good cheer, so patients and employees are ready to engage, and your marketing dollars will go further. Marketing now also helps protect your precious year-end revenues and can help soften the blow of the deductible reset in January.
Don't let concerns about added stress stop you from reaping the benefits of marketing during this important time of year. The key is to simplify your approach and build on everything the season already has to offer.
Here are five ways to make year-end marketing easier, more fun and more efficient.
1. Easy and fun: Spice up your newsletter, your blog—even your office for the season.
Adding a dash of holiday spirit to your newsletter, website or social media presence is a subtle, warm, yet impactful form of marketing, and it's easier than ever to do.
Email service providers usually offer pre-made templates to match the seasons—an easy way to jazz up your newsletter. Constant Contact provides some examples of their holiday templates on this page, but if you use a different service, odds are they've got some pre-made holiday templates to choose from, too.
Even simply adding a holiday image or two to your website, blogs, social media pages or emails makes your practice look warm and festive, and it has the added benefit of making your channels look fresh and up to date. Low-cost (or even free) images you can legally use are easy to find online. Look for images that state that you can use them commercially with the license provided.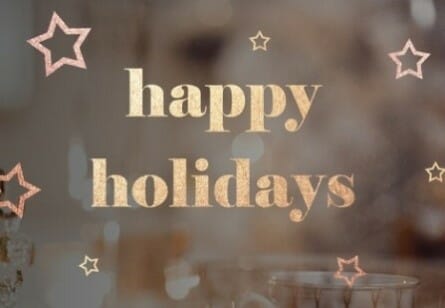 For example, this image, with its non-religious holiday theme, could make a jolly addition to your online presence, whether you use it as the featured image in a blog post or just share it on Facebook. (This came from Pixabay, where almost all of the images are free for commercial use. You don't even have to include the credits, as I did, but it's a nice way to thank the artist.) These little touches are small but effective ways to enhance the patient experience—one of your most impactful forms of marketing. The warmer your patients find their interactions with your practice, the more likely they will be to tell a friend or to post a review that could reach hundreds of people in your service area. (Don't forget to ask patients to post reviews—many have no idea how important they are to your practice.)
Decorating your office for the season also helps staff and patients alike feel less stressed and more festive. If you're short on ideas, Pinterest has some fun inspiration for decorating medical offices, creative ideas that also engage your staff.
2. Think evergreen. (No, not Christmas trees!)
If you've been sending newsletters, posting messages on your website or sharing information via social media over several years, odds are you've built up an archive of enduring, "evergreen" content. Because seasonal themes repeat year after year, mining what you've shared in the past is an invaluable shortcut for this year's promotions.
For instance, tips for staying well during the winter months or taking care of yourself when the flu strikes will likely need only a quick refresh to make them ready to post again. Is your office typically slow in January? A reminder that it's easier to be seen at the start of the year is a perfect evergreen blog post, newsletter article and social media post. A photo like this one is a great visual to underscore that medical offices may be less crowded right after deductibles reset. The text of your post can explain that many preventive services, including well visits, carry no out-of-pocket cost.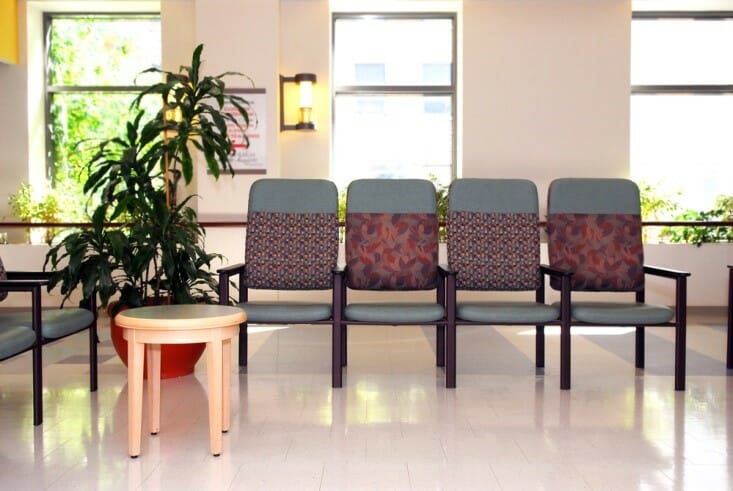 If you haven't been active online in the past few years, create new content this year with an eye toward making next year's postings easier. List posts are fun for writers and readers alike—and they're easily recyclable. As examples, ask everyone in the office to share something they're thankful for, offer tips for DIY gifts or decorations, or comment on how they de-stress during the busy holiday season. Then make it easy to reuse those lists next year by tagging them in your content system so you can find them with a quick search.
A list can be used for marketing offline, too. Let's say your team contributed a set of tips like "12 Days, 12 Ways to Reduce Holiday Stress." Those tips could do double duty, both online and in a postcard you could distribute in your office. Custom postcards have dropped significantly in price and can be ordered online and delivered in days.
3. Let technology—or a tech-savvy employee—lighten the load.
Managing your content with a social media management tool like SocialBee or Hootsuite is another easy way to take advantage of evergreen content and save time. Use one of these dashboards to schedule posts and reposts of your evergreen content over the holiday season. (You can tackle many weeks' worth of content at once when you get a free block of time.)
Remember also, that even if you're hopelessly short on time or don't have a knack for internet marketing, you may have employees who would love to bring their social media savvy to work. Allowing those team members to contribute in this way lets them expand their resume and feel valued and appreciated—an even more important gesture during the holidays.
4. Involve your team for more meaningful impact.
In so many ways, your staff is the key to a great patient experience. In the final weeks of the year, your employees may feel much more strained—not just because the office is extra busy, but also because many people find the holidays stressful. It's invaluable to make your team feel appreciated and involved during this busy time of year.
For example, many practices send small gifts and cards to express their appreciation to primary care practices and other physicians who refer patients to them. Those relationships are crucial—and it's the staff on both sides who make them work. Ask your employees who handle referrals or scheduling for insights into what might make a meaningful gift to the practices that entrust their patients to you. Maybe one of your employee's contacts has mentioned that their practice doesn't provide coffee to its staff, so everyone brings their own. A box of coffee pods would be a great gift that everyone could share, and it would remind their office of your practice in a very pleasing way. That's the kind of thoughtfulness only someone on your staff would know to suggest. And, simply by asking your employees for input like this, you're acknowledging the value they bring to your business and making them feel more connected to it.
Community outreach is another great way to celebrate the holidays with your staff—and a powerful marketing tool. Why not let your staff take the lead on selecting events to sponsor or charities to support? Encourage them to work together to select the projects that inspire them and also fit your practice's marketing strategy. For example, piggybacking onto a local charity's food or toy drive is often easy to set up. Staff can donate to the drive if they wish, and you can spotlight their participation in your newsletter, encouraging patients to bring their own donations. In addition, small holiday ads in church bulletins or school-play programs are inexpensive (so you can afford to do a few), and they can be surprisingly useful for attracting new patients.
5. Above all, remember why we celebrate at this time of year
If it feels like just one more task on an overloaded to-do list, or yet another obligation, marketing during the holidays can become one more source of stress. The key to avoiding that feeling is to have fun, involve your team, and use marketing to express your practice's gratitude, personality and mission. You don't have to launch a major project or spend thousands of dollars. Little touches of holiday spirit help everyone in your practice—and everyone your practice cares for—remember why we celebrate the holidays in the first place. And isn't that just the kind of message you want your marketing efforts to send?
Learn how Phreesia Health Campaigns can help you target specific patients and prompt them to schedule important appointments, including preventive-care visits.