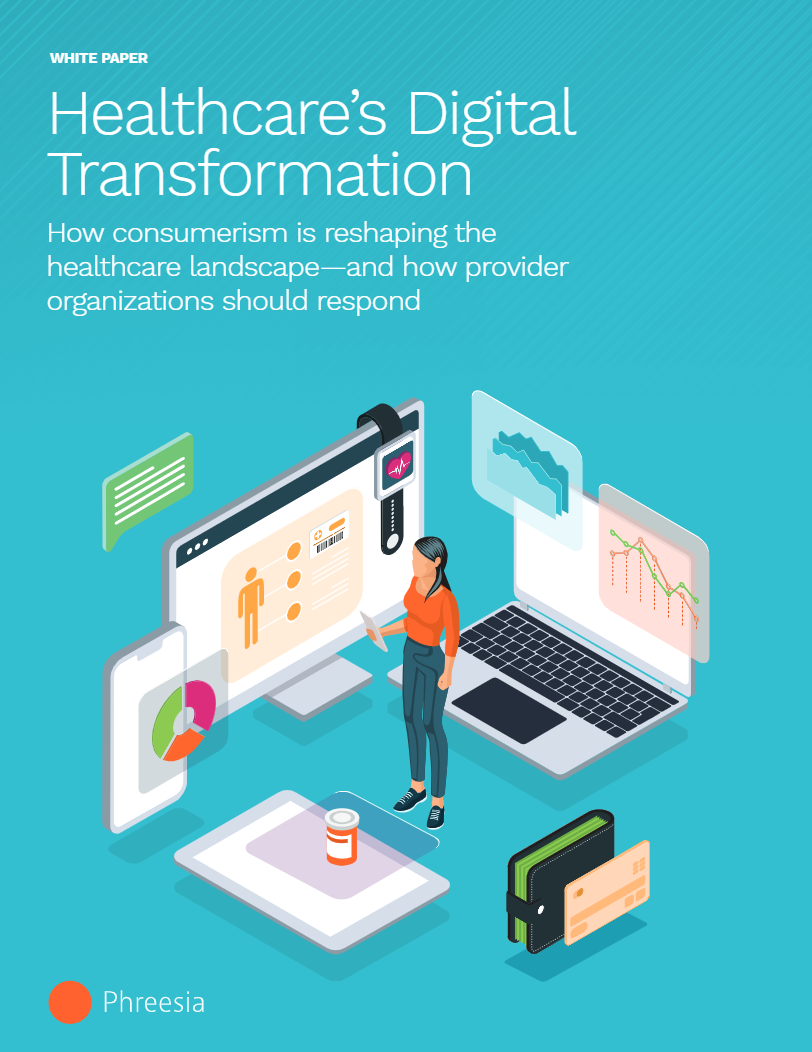 This is the first in a series of blog posts on how advancements in healthcare technology have reshaped patient behavior, preferences and care expectations. The data featured in this series is based on survey responses from more than 4,000 patients across Phreesia's network and is included in our new, free white paper, Healthcare's Digital Transformation: How consumerism is reshaping the healthcare landscape.
Collecting patients' copays and balances at the time of service has never been easy—and it certainly hasn't been inexpensive.
On average, providers send out more than three billing statements before redirecting a patient's account to collections. Those hard costs can add up, especially for healthcare organizations that use direct mail to request payment. What's more, a 2017 Health Affairs report found that one-third of patients whose balances exceeded $200 did not pay them in full—and the longer patients go without paying their bill, the less likely they are to ever pay it.
But that was before the pandemic. Now that digital payments are taking off, patients are eager to ditch traditional payment methods in favor of convenient, tech-enabled alternatives. Rather than fumbling for a credit card or checkbook at their provider's office, patients want to pay online from the comfort of their home. And instead of providing sensitive credit card information over the phone, patients prefer to make payments from the safety and security of their own mobile device or home computer.
That's one of the key takeaways from Phreesia's recent 26-question survey of more than 4,000 patients conducted between March 4 and March 11, 2022. Among survey respondents, 43% said they paid one or more medical bills online in the past year—a significantly higher percentage than those who paid by phone (12%) and mailed check (13%) combined.

Even among surveyed patients who didn't pay online in the past year, 70% said they would likely do so if given the option. In fact, 22% of patients said they consider the ability to make payments digitally a "must-have" when choosing a doctor, and 18% said they would consider switching providers for that convenience alone.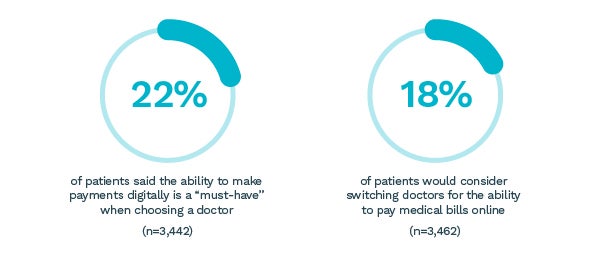 Why do so many patients want the option to pay their medical bills online? The short answer: simplicity. Among Phreesia-surveyed patients who made healthcare payments online in the past 12 months, more than half cited speed (62%) and convenience (51%) as their top reasons for doing so.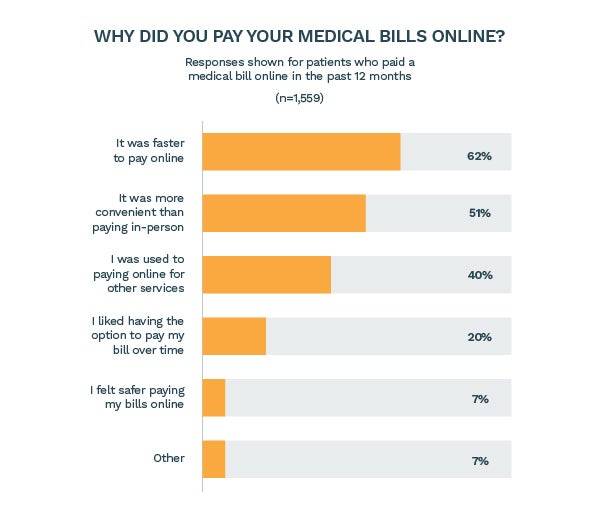 Unquestionably, patients are comfortable with online bill payment. They're used to paying online for other goods and services, and their healthcare preferences are influenced by the same consumer-centric features—convenience, personalization, transparency, high-quality service—they're accustomed to experiencing elsewhere.
But meeting patients' financial expectations isn't just about implementing online payment capabilities. It's equally important to give patients the modern, flexible payment features they expect. More than half of Phreesia-surveyed patients (56%) said they want their provider to offer at least one of the digital payment options listed in the survey—payment plans, automatic payments and/or the ability to keep a credit card on file.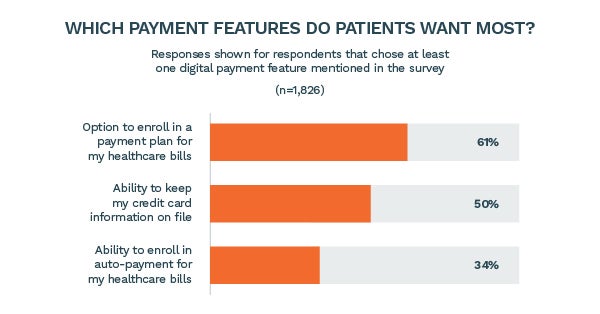 Offering consumer-friendly payment options helps patients better manage their finances as they assume greater responsibility for the cost of their care. Such options also improve the likelihood that patients will pay their bill in full, which helps healthcare providers increase collections both at the point of care and after patients leave their office.
No doubt, there's still a disconnect between patients' payment expectations and their payment experiences. But for forward-thinking healthcare organizations, that discrepancy offers a valuable opportunity. By offering flexible ways for patients to pay their medical bills, providers can reduce hard costs, boost time-of-service collections and increase patient satisfaction, all while alleviating manual billing responsibilities for staff.
Learn how Phreesia can help you collect respectfully and consistently at the time of service and give patients the modern, flexible payment experience they expect.