In May and June 2023, Phreesia surveyed nearly 5,000 adults age 65 and older to better understand their perceptions, preferences and experiences with healthcare insurance, particularly Medicare Advantage (MA) plans. Nearly two-thirds of respondents (65%) lived in urban areas, and 52% identified as female. In this blog post, we'll explore why MA plans that focus on improving members' awareness of the benefits and preventive care services available to them will be well positioned to drive enrollment, boost retention and improve plan satisfaction.
Medicare Advantage enrollment is reaching new heights, and it doesn't show any signs of slowing. With more than 30 million members, MA enrollment has surpassed traditional Medicare to become the most popular Medicare plan type, even as competition among MA plans heats up.
The reason is clear: More is more when it comes to MA coverage. MA plans typically offer more benefits than traditional Medicare—including vision, hearing, dental and telehealth—as well as better coverage for supplemental services such as meal delivery, durable medical equipment, fitness programs and over-the-counter medications. These expansive benefits and new product options have driven the MA switch rate to near-record highs. Not surprisingly, MA plans that heavily invest into benefits are outperforming their competitors in attracting and retaining members.
But one key factor is limiting member acquisition and retention: Perceived complexity. Roughly 3 in 4 Medicare beneficiaries describe the program as "confusing and difficult to understand," and nearly two-thirds feel "less than very confident" in their understanding of their coverage and available benefits. Confusion about MA plans in particular remains a persistent challenge, affecting members' initial plan choice as well as their long-term satisfaction. In some cases, that confusion prompts them to shop around—or even to switch plans entirely.
The takeaway? Health plans that regularly and strategically educate members about their coverage and benefits will be poised to succeed as MA enrollments swell.
Benefits drive enrollment, but awareness drives retention
Though a majority of MA beneficiaries keep the same health plan for at least five years, plan-switching is not uncommon. Nearly 1 in 5 Phreesia-surveyed MA members (19%) have been enrolled in their current plan for less than a year—and 93% of those respondents said they switched insurance plans in the past 12 months.
The reason? In many cases, it's benefits. Nearly one-quarter (22%) of MA beneficiaries who switched plans in the past year said they wanted better coverage for dental, vision and hearing care, prescription drugs, or for their specific health conditions, among other considerations.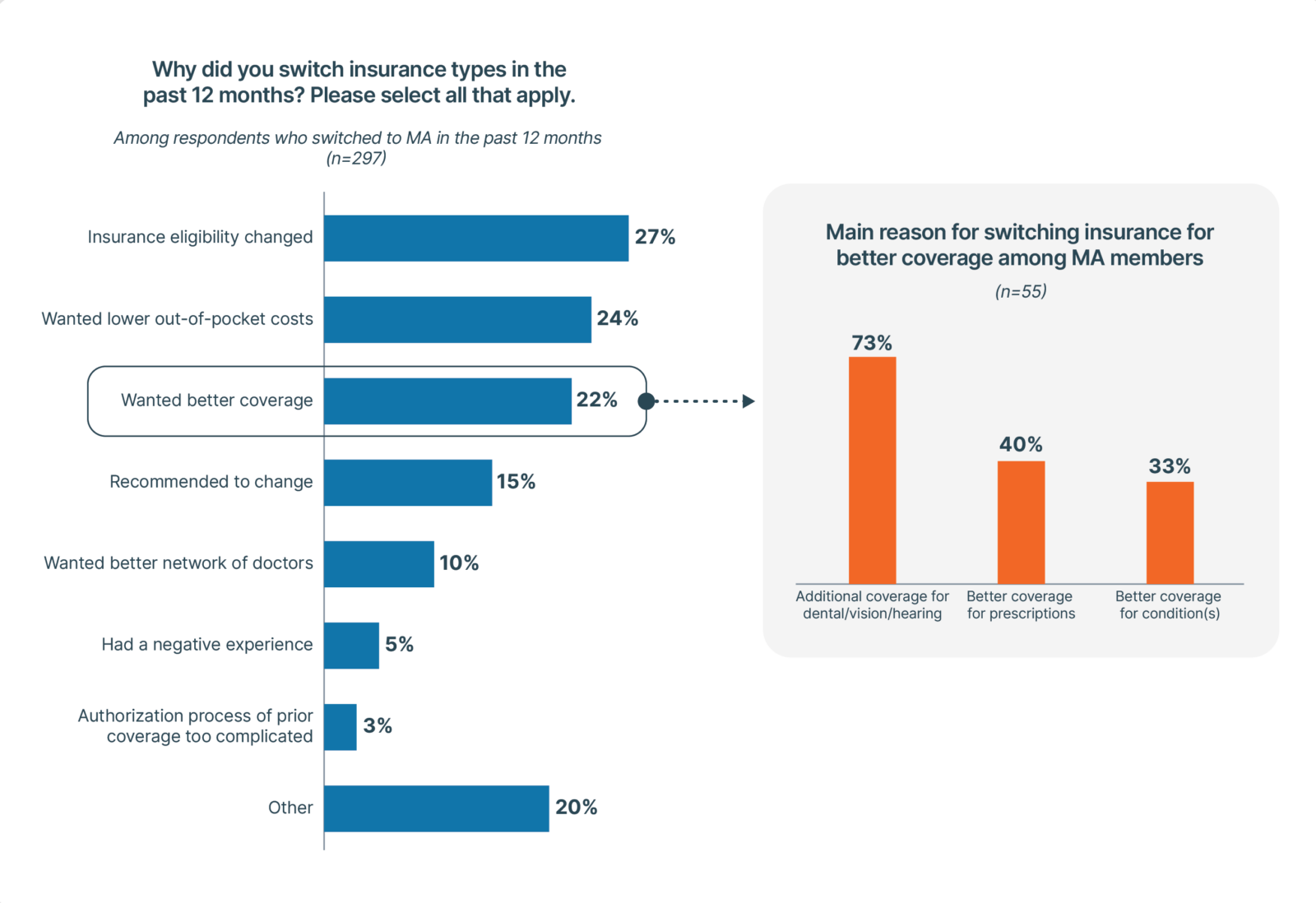 Those findings align with previous Medicare research, too, which shows that some beneficiaries are more likely to enroll in MA to take advantage of more generous or additional benefits that traditional Medicare doesn't offer. Put simply, members' plan choice is largely influenced by the coverage they can receive—and they may voluntarily disenroll or change plans if a competitor offers more attractive benefits.
It's worth noting that most MA plans have expanded their supplemental benefits in recent years—a trend primarily driven by the Centers for Medicare and Medicaid Services' push to improve health outcomes and lower costs. But therein lies a dichotomy: Despite enrollees having access to more coverage options than ever before, many MA members do not recall receiving information from their health plan about the benefits available to them—including the ones they care about most.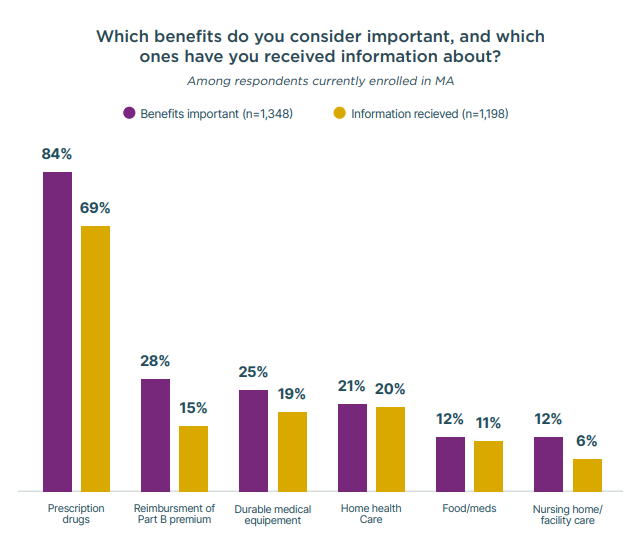 Members' awareness of their plan's covered services correlates with their overall plan satisfaction, too. Across the board, Phreesia-surveyed beneficiaries who gave their plan a top rating (9 or 10 out of 10) were more likely to remember receiving information about the preventive care services it offers than those who rated their plan lower (8 or less). Indeed, members want to know what preventive-care services their plan covers—and when they receive that information, it's likely to positively impact their overall plan ratings.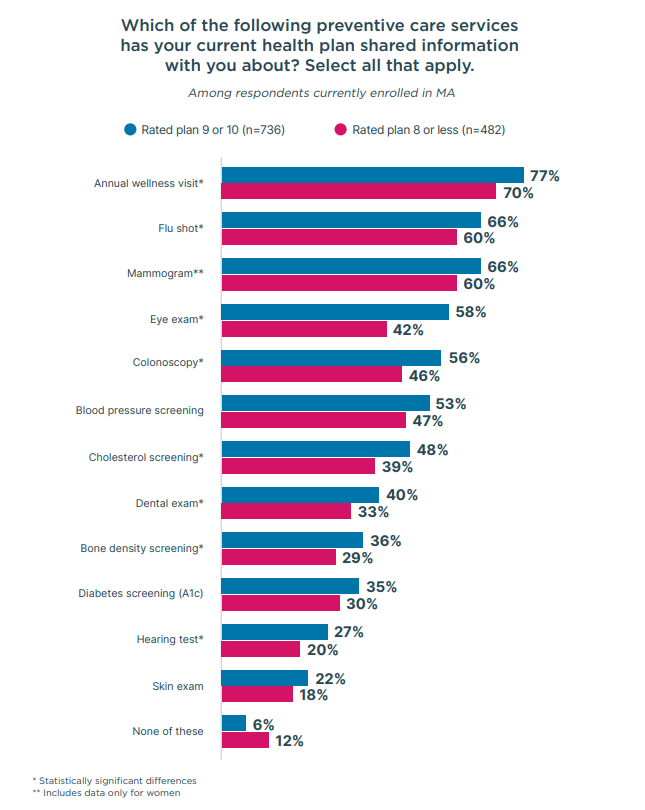 How preferred-channel communication improves benefits awareness
The vast majority of MA members surveyed by Phreesia (88%) said the ability to receive health-plan information via their preferred communication channels was a "very" or "extremely" important consideration when selecting a plan.
Indeed, omnichannel engagement is crucial. When health plans communicate with members via the channels they already use and prefer, those members are more likely to engage with the messaging they receive—and less likely to assume their plan didn't attempt to inform them about their benefits.
But while most health plans have made strides in member engagement, there is still room for improvement. Nearly 1 in 5 MA beneficiaries (18%) who have been enrolled in their plan for less than one year say they are not "very" or "extremely" satisfied with their ability to receive health-plan information through their preferred communication channels.
The proof is in the numbers. Among all Phreesia-surveyed beneficiaries, nearly 6 in 10 (58%) said they would prefer to receive health-plan information via email, but barely one quarter (26%) say they have. The contrast is even starker for text messaging, with 30% of MA members citing it as a preferred mode of communication—but only 8% saying that they currently receive health-plan information via text.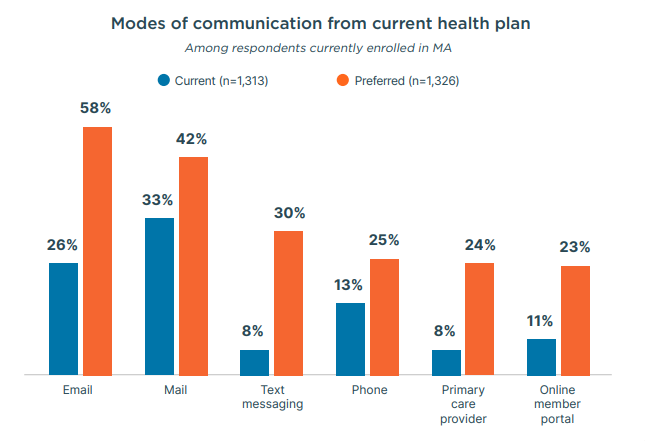 When beneficiaries feel that their communication preferences are disregarded or ignored, their engagement is bound to decline. As a result, they're less likely to be aware of key benefits available to them—and more likely to feel dissatisfied with their plan overall.
Fortunately, there are proven, effective ways for health plans to address this disconnect. By embracing diversified communication strategies, MA plans can easily engage members via their preferred communication channels. The end results are improved benefits awareness, greater plan satisfaction and more effective member engagement.
Here's how health plans can diversify their communication strategies to engage with members via the channels they prefer.
1. Embrace a digital-first approach.
MA members' increasing comfort with technology has prompted many health plans to prioritize digital engagement channels—not only during onboarding, but throughout members' tenure with their plan.
By distributing benefits information through the channels that members most prefer, such as email, text messaging and voice calls, MA plans can better align with their members' communication preferences, successfully educate them about the benefits they care about most and improve their overall experience with their plan.
2. Partner with providers.
Health plans can't operate in a silo. Members trust their providers, and that trust can serve as a gateway to helping them better understand their benefits and coverage. But if MA plans only have a transactional relationship with providers, rather than a collaborative partnership, it may impede their ability to engage members at scale and fully educate them about their benefits.
That's why health plans should work with providers to distribute plan information to members at the point of care when their health is top of mind. MA beneficiaries find point-of-care messaging more reliable than other content channels, and research suggests that it's often a more cost-efficient way to increase benefits awareness and member engagement.
3. Get members' direct feedback.
By partnering with providers and vendors to digitally survey members at the point of care, health plans can leverage IT to better understand their preferred communication channels. Then, they can use that data to assess their plan's strengths, identify opportunities for improvement and give their members the personalized engagement experience they expect.
Want to transform your benefits-awareness strategy? Learn how Phreesia helps health plans today.