What is preventive care?
Preventive health services, such as annual wellness visits, clinical screenings and immunizations, keep patients healthy and are essential building blocks of comprehensive patient care. The purpose of preventive care is to shift the focus of healthcare from treating sickness to maintaining wellness and good health and allows patients to access prompt treatment when necessary and reduce their overall medical expenses.
Why is preventive care important?
Chronic illnesses such as heart disease, cancer and diabetes are responsible for 7 out of 10 deaths in the U.S. each year and account for 75% of the nation's healthcare spending[1]. These diseases are often preventable through
healthy lifestyle habits and regular provider visits or more easily treated if diagnosed early. But did you know Americans use preventive services at just half the recommended rate?  Effective preventive care requires healthcare providers to engage with patients and apply an individualized, coordinated and comprehensive approach.
This e-book provides nine essential things to know that will help your organization enhance preventive care and improve your patients' health, including:
How women's and men's preventive-care needs differ
Why preventive care should include addressing social determinants of health
How technology can help provide more accessible, efficient and standardized preventive care services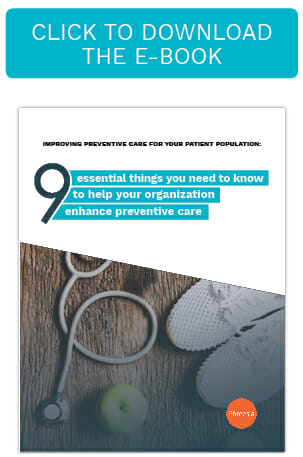 [1] Centers for Disease Control and Prevention