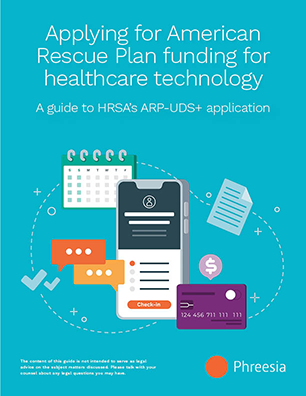 Federally Qualified Health Centers (FQHCs) and look-alikes may be eligible for funding to improve the collection of patient-level data, support COVID-19 response and better target the needs of the patients they serve.
The U.S. Department of Health and Human Services (HHS), through the Health Resources and Services Administration (HRSA), is providing $88.4 million in additional American Rescue Plan (ARP) funding to address disparities among the patients of HRSA-supported health centers and look-alikes (HRSA-designated health centers), with funding provided through the Uniform Data System Patient-Level Submission (UDS+), HRSA's modernized data collection and reporting initiative. Grant recipients may be awarded approximately $60,000.
Costs associated with the purchase and use of existing and new Phreesia products likely qualify as an eligible expense for funding under this program. In this guide, we outline the necessary steps for completing the application process and articulate several ways Phreesia's applications could support your organization with various activities that qualify for ARP-UDS+ funding.
The content of this guide is not intended to serve as legal advice on the subject matters discussed. You should consult with your own legal counsel and consider the individual situation of your health center and intended use of our technology when completing your application. Please note that information in this document is subject to changes in the HRSA's application.