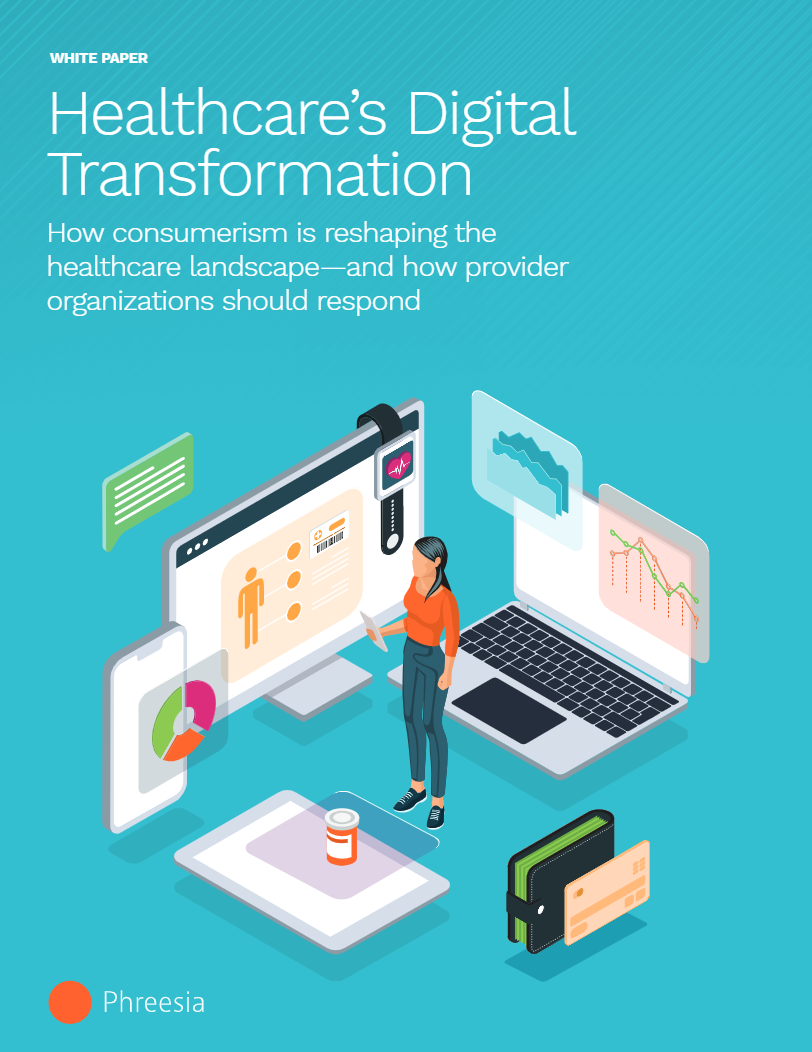 This is the fourth in a series of blog posts on how advancements in healthcare technology have reshaped patient behavior, preferences and care expectations. The data featured in this series is based on survey responses from more than 4,000 patients across Phreesia's network and is included in our new, free white paper, Healthcare's Digital Transformation: How consumerism is reshaping the healthcare landscape.
Most patients are comfortable with healthcare technology—and it's easy to see why.
For starters, most industries already offer a digital-first user experience. From sending messages and streaming media to shopping online and paying bills, today's consumers use technology for virtually every aspect of their lives. And in healthcare, the pandemic accelerated that shift overnight. Convenient solutions like mobile registration, self-scheduling and contactless payments surged during the COVID-19 crisis—and patients quickly embraced them. Now that those tools are commonplace, most patients expect their providers to offer them.
The proof is in the numbers. In a recent Phreesia survey of more than 4,000 patients, 86% said they feel comfortable using technology to manage their healthcare needs. Indeed, patients today are tech-savvy, and they count on their healthcare providers to offer the same consumer-centric services they're accustomed to using in other industries. Not surprisingly, healthcare organizations that offer modern, digital tools are well-positioned to boost satisfaction, increase loyalty and retain more patients.
Nevertheless, a significant subset of patients surveyed by Phreesia (14%) said they do not feel comfortable using healthcare technology, including 5% of patients who said they are "not comfortable at all."
That's a problem for healthcare organizations. Digital-first strategies should be designed with the entire patient population in mind—not just the majority. If 14% of patients are uncomfortable with their healthcare experience, their overall satisfaction, engagement and willingness to seek care is liable to suffer.
The good news? Patients' healthcare technology perceptions aren't static. In Phreesia's survey, most patients who reported feeling uncomfortable using technology said there were concrete steps providers could take to increase their comfort level.
Here's a look at those steps with insights into how your healthcare organization can make all patients feel more at ease using healthcare technology.
Prioritize data security
Patients expect their doctors to keep their personal health information safe—but all digital tools are prone to cyberthreats. Understandably, some patients worry about healthcare technology's ability to keep their sensitive data secure.
Among surveyed patients who said they were uncomfortable using technology to manage their health, 41% said they would feel more comfortable if their provider had additional measures in place to protect their personal information.
To address that concern, healthcare providers must keep security top of mind when vetting potential technology solutions. Before choosing a third-party technology vendor, be sure to confirm that they:
Comply with regulatory standards that keep patients' health information secure
Offer PCI-validated solutions that use tokenization and encryption when handling patient payments
Are certified by comprehensive security compliance frameworks, such as HITRUST and SOC 2
Without appropriate safeguards in place, healthcare organizations could risk jeopardizing patients' data—and their trust. That's why it's crucial to select vendors whose digital tools meet the highest standards for keeping personal health information safe—and to be transparent with patients about the tools you use. After implementing secure technology, let patients know about it—and be sure to use clear, simple language to explain how those security safeguards can help protect their data.
Invest in the patient experience
Creating a digital front door isn't just about finding the right tools. It's equally important—if not more so—to ensure that patients know how to use them.
According to Phreesia's survey, 29% of patients who reported feeling uncomfortable using healthcare technology said they would feel more comfortable if they had access to easier-to-use digital tools. Another 21% said their comfort level would increase if they received more instruction on how to use them.
To successfully introduce patients to new technologies, healthcare organizations must focus with laser-like precision on the user experience. That means not only finding tools with intuitive front-end design, but also investing in staff training, ongoing support and patient-centric communication.
Before selecting vendors or implementing any patient-facing digital tools, healthcare organizations should keep these tips in mind:
Make it easy. Choose transparent, easy-to-understand technologies that leverage channels patients already use—like emails and text messages—rather than tools that require an app or a log-in page.
Train your trainers. Schedule adequate time for training and demonstrations to ensure your staff understands how your organization's new digital tools work so they feel comfortable teaching patients how to use them.
State the goals and benefits upfront. Use your website, newsletter and/or social media to announce new digital tools to patients. Be sure to clearly highlight the value proposition—whether that means spending less time in the waiting room, providing more flexible scheduling options or offering easier ways to pay.
Good technology is essential to a good patient experience. Digital tools like self-scheduling, mobile check-in and online payments should make healthcare easier to access—not cause discomfort or confusion. By listening to and proactively addressing patients' technology concerns, healthcare organizations can create an inclusive digital strategy that ensures that every patient gets the care and support they need.
Learn how Phreesia's digital tools can help you maximize efficiency, improve the patient experience and drive outcomes that matter.